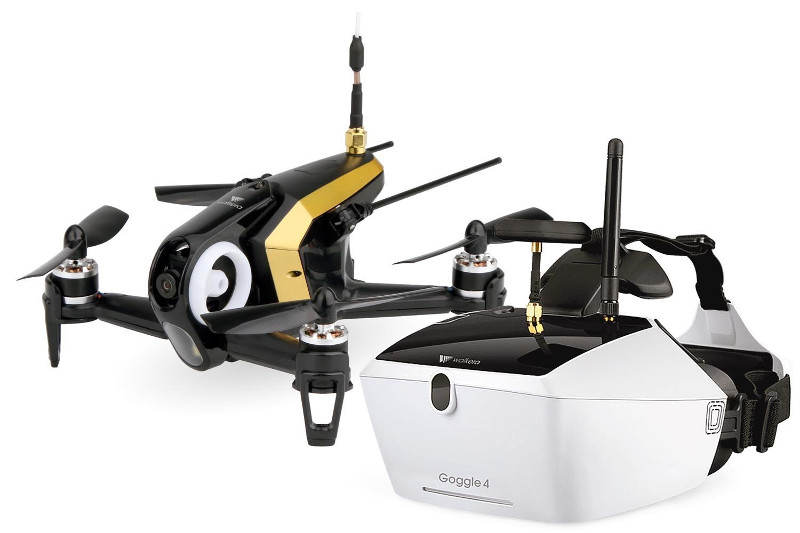 The trend "FPV Racing" comes from America and has established itself there in recent years.
FPV drones are now also becoming increasingly popular in Germany.
Top 3 FPV drones complete sets
Parrot Bebop 2
Parrot Disco
Walkera 15004480
FPV Brille
Parrot FPV Brille
Parrot FPV Brille
Videobrille Goggle V4
Flugzeit
24 Minuten
45 Minuten
8 Minuten
Flugverhalten
Sehr Gut
Sehr Gut
Gut
Kamera
14 MP
Videoauflösung: Full HD
1080p Full HD Kamera
HD Front-Kamera
Reichweite
2 Km (mit Controller)
2 Km (mit Controller)
k.A.
Gewicht
500 g
500 g
200 g
Testbericht
>> Zum Test <<
---
---
Shop
What is an FPV drone?
FPV stands for "First Person View". One sees over FPV glasses, so to speak, what the drone "sees" and is right in the middle of the flight action.
Imagine yourself sitting inside the drone and experiencing impressive, unique flight maneuvers and reaching speeds of up to 120 kmh.
Usually FPV drones are small racing quadrocopters with which you should practice a bit, because they do not stabilize themselves in the air and do not have GPS.
They are available pre-assembled and as a kit for a good price/performance ratio. But most of all you should get many spare propellers ;-).
In addition to the FPV Racing Drones, there are also models with FPV and GPS, which are slightly larger, stable in the air and easy to control.
For example, we have tested the Parrot Beboop 2, which normally comes with an FPV pack.
This model is "Ready to Fly", you just need a Smartphone and you are ready to fly.
FPV Accessories
Probably one or the other now asks himself "What do I need to fly FPV?
We want to go into this in more detail now.
Basically you can choose a drone with FPV glasses or FPV screen. The Parrot Beebop 2, for example, can be flown without or with screen/glasses.
For beginners a LCD display is sufficient at the beginning, which is either permanently installed in the remote control or on a terminal of your choice. Smartphones and tablets are often used for the typical drones.
But just flying by the screen does not give you the right FPV feeling. In order to be able to continue the experience, you will need the appropriate glasses.
FPV drone with glasses?
To fulfill your dream of your own flight cockpit, you need a FPV drone with glasses!
Then you should also know if you want to join FPV Racing or if you prefer to enjoy breathtaking live images, which are delivered to you in a bird's eye view thanks to the glasses.
Below you can find some drones which are suitable for FPV Racing. In the following we present you a few normal quadrocopters.
Parrot Beeboop 2 FPV drone with glasses
In the test the Parrot Beeboop 2 surprised us positively.
We are actually used to DJI drones, no other manufacturer could compete with them. But the Beeboop 2 is not only nailed to the ground, the flight experience of the FPV drone with glasses is breathtaking.
With the Parrot Beeboop 2 it is easy and comfortable to fly:
Simply download the Parrot app, connect your smartphone to the skycontroller, align it and place it in the slot of the goggles, connect the drone to the controller, launch the drone and enjoy the unique FPV flying.
Find out more about the Parrot Beeboop 2 in our Parrot Beeboop 2 review.
==> Buy Parrot Beeboop 2 at Amazon
Parrot Disco FPV drone with glasses
From the same manufacturer is the Parrot Disco FPV drone, with which you can experience extraordinary real flights.
This drone is not a typical quadrocopter, but rather resembles an aircraft with propeller drive.
==> Watch Parrot Disco FPV drone on Amazon
FPV Racing
For the FPV Racing you need a suitable racing drone and FPV glasses.
Leading manufacturers are for example DJI, Fatshark and CamoneTec.
However, these glasses are in the upper price range and cost several hundred euros.
Complete sets, consisting of racing quadrocopter and FPV glasses system, are accordingly expensive.
You can buy such a set for example here on Amazon.
FPV drone laws – What is allowed?
If you fly a FPV drone, in addition to the general drone regulations, a second person must always be present.
Especially when flying with FPV goggles you tend to fly much further away from your home point than you would normally do. The second person must be able to have your quadrocopter always in view.
Note: In case of damage, a liability insurance will not cover the damage if you cannot prove a second person!