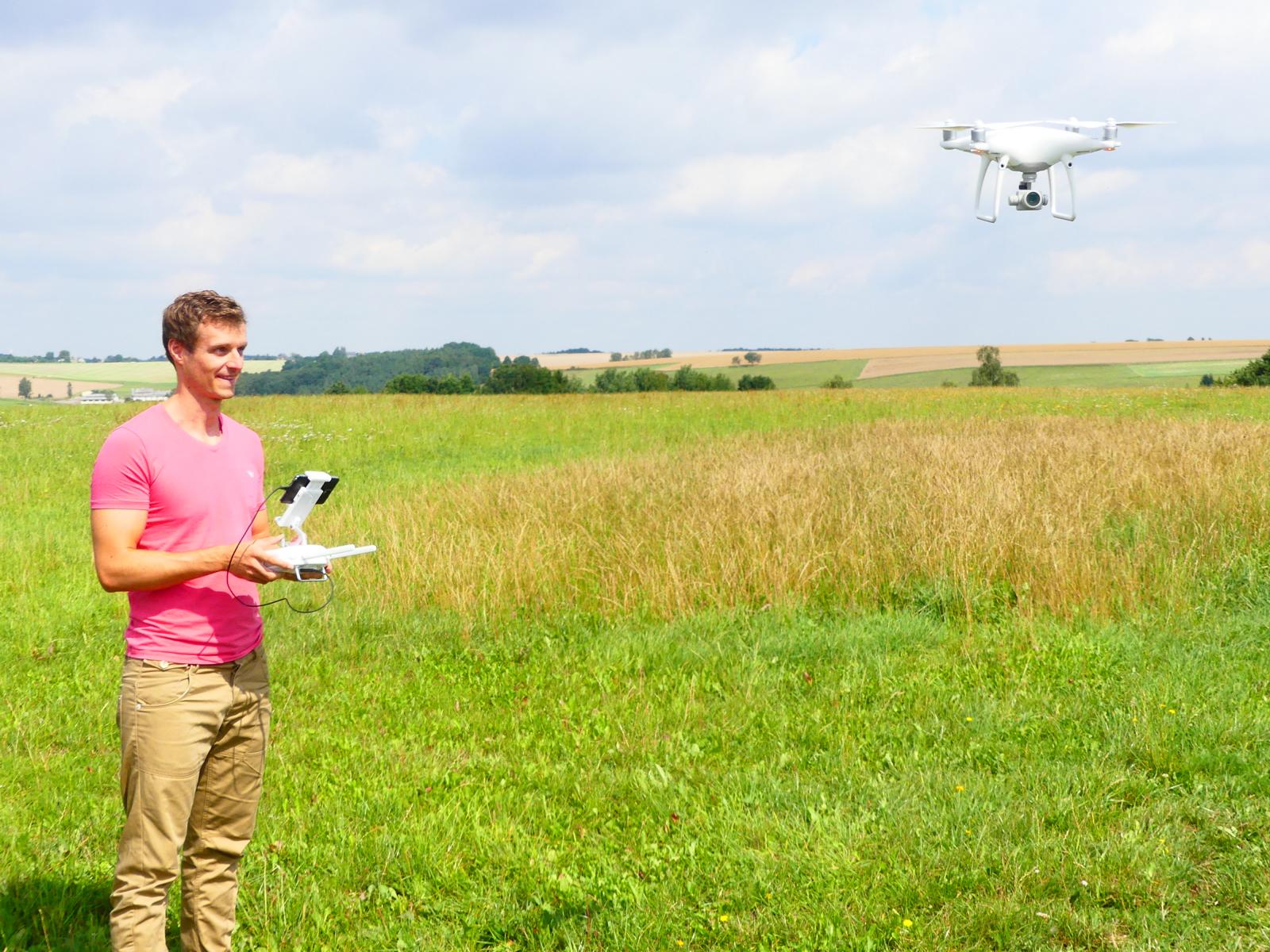 On the drones market it is often difficult to distinguish good affordable drones from real snippets, but the quality is not very good.
We have made it our business to introduce the best professional camera drones to you and to show you in detail what you can expect from each model in practice.
So that we don't bore you with text descriptions only, we have made a video test report for most drones which you can also find on our YouTube channel.
DJI, Yuneec, Hubsan and Karma Drone in review
From the large number of suppliers we have selected the best professional drones for you, which we have thoroughly tested for gimbal and flight characteristics.
We have paid special attention to a wide range of different manufacturers. In the following we present drones from DJI, Yuneec, Hubsan and Parrot.
DJI Mavic Pro – Our first choice
The DJI Mavic Pro is the all-round talent among the professional drones and especially suitable for pilots who love to travel. It is possible to fold the quadrocopter so that it only takes up an approximate size of 10cm width, 20c length and 8cm height in your backpack. What else the copter can do, you will find out in the following video review.
In addition to its incredibly compact size, the Mavic features a 4k camera and a 2x digital zoom function.
The flight characteristics are outstanding despite its low weight of almost 770g. No matter if there is a lot of wind or fog, the Mavic Pro stands like a one in the air and doesn't move from the spot.
In sport mode, the drone reaches a top speed of almost 65 km/h and thus brings the extra thrill even for speedy pilots. A cool thing here is that the rotor blades do not appear in the video even in sport mode. This problem of the previous models of the Phantom 3 series has therefore been solved.
The real flight time when you use the drone to its maximum capacity was just under 23 minutes in our endurance test. Great here is that the batteries are smaller than, for example, the P4 so that they are fully recharged after only 60 minutes. We bought the Fly More Combo Kit, because 2 extra batteries are included.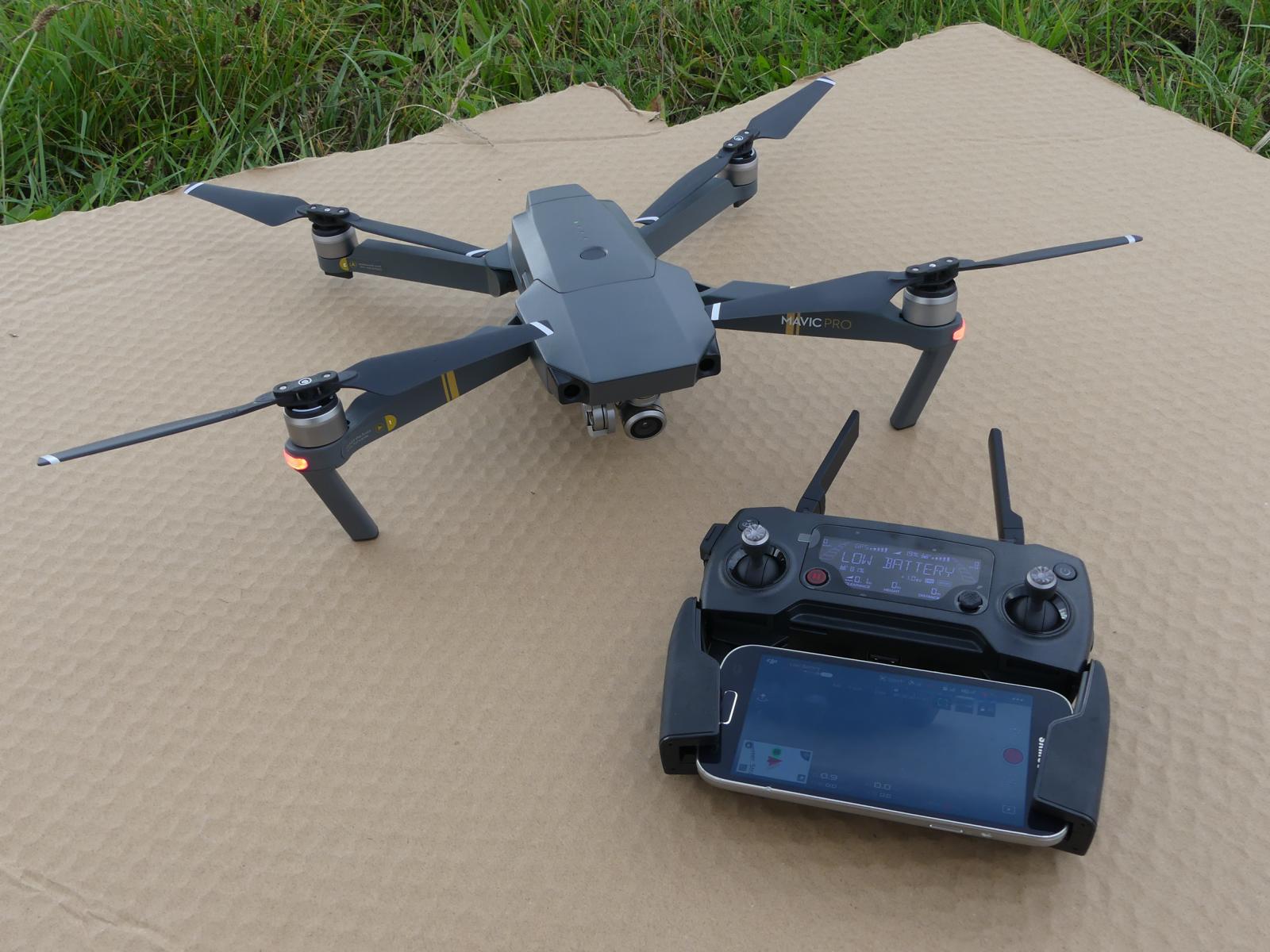 In our range test a distance of almost 500 meters was no problem. In Germany drones may only be flown within visual range, otherwise you are violating the current drone law. Youtuber from America have even covered distances of more than 5km with the Mavic, so that the manufacturer's specifications seem realistic for a range of up to 7km.
In our test the anti-collision system worked flawlessly on large objects like a car as well as on a thin wooden pole. However, it should be noted that the approached objects must have a sufficiently clear structure for the system to work properly.
The photo and video recordings are really first class in good light conditions. As you can see in the video, the gimbal system works flawlessly and delivers a smooth wobble-free image at all times.
4k pictures are taken with a frame rate of 30 frames per second. It is possible to shoot at 120 FPS (frames per second) in Full-HD, so you can also produce slow-motion shots that are well worth seeing.
The photos are taken with a resolution of 4000×3000 pixels m JPG or in DNG format. Demanding photographers also get their money's worth and can save the pictures in DNG format so that they can be edited in Photoshop afterwards.
All in all DJI delivers a coherent package that is available in some online shops for a price of 1100€ in the smallest version.
DJI Phantom 4 Advanced: High End Quality from DJI
The Phantom 4 Advanced is one of DJI's most expensive drones, but it also offers a lot of cool features for the proud price of just under 1500€. The following video shows you in detail what you can expect from this drone in practice.
The quadrocopter has a 4k Action Cam with 60 FPS which is the best on the market at the moment. Even video recordings in Ultra HD can be made with 60 frames per second.
The videos look incredibly fluid and razor sharp, even in low light conditions. The photos can also be taken in 4000×3000 pixel format with a resolution of 20MP. Of course it is possible to save the pictures in DNG format so that they can be edited afterwards.
The gimbal system does a great job and keeps the drone camera in a steady position even during small storms. Compared to its predecessor, the P3 series has been completely redesigned to make it less vulnerable to damage in crashes or collisions.
In practical tests we were able to achieve an effective flight time of just under 27 minutes. Compared to the competition, this is a really respectable value which is quite respectable. It takes 90 minutes until the battery is fully charged again.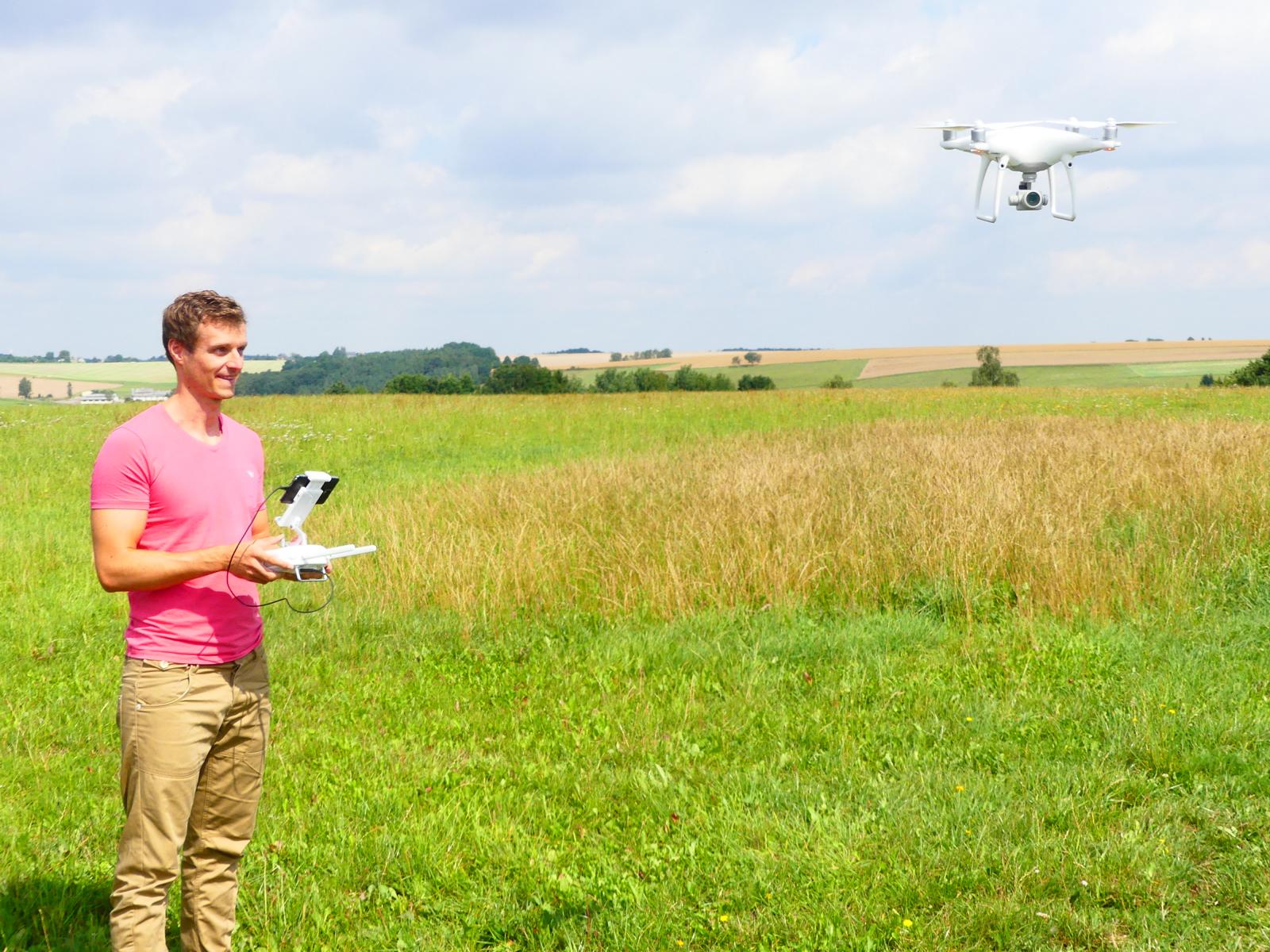 The flight characteristics are simply ingenious and look very mature. The drone can even withstand stronger winds without any problems and stands calm and relaxed in the air. The implementation of the flight commands given to the drone via the remote control are implemented directly and smoothly.
The copter reaches a top speed of 80 km/h in sport mode and leads the list of the fastest drones we tested. It's really a lot of fun to fly through the air, but be careful because the P4 doesn't recognize any obstacles in this flight mode.
The intelligent flight modes make it possible even for the untrained pilot to create spectacular film shots. From Point-of-Interest to Draw Mode, everything is included that makes the drone heart beat faster.
The obstacle detection sensors are very reliable, as well as the return-to-home function and other built-in safety mechanisms such as automatic take-off and landing.
If you have a little more budget available and don't have to travel by drone every day, then the P4 Advanced is definitely the right choice for you.
DJI Spark – gesture control on the next level
DJI's smallest drone, the Spark, can be controlled with your gestures. This is not only incredibly cool and innovative, but also makes it easier for you to use it when you have a lot to carry around. You can see how sophisticated this technology really is in the following video.
The Spark is a mini-drone which is equipped with a lot of good technology for a price of almost 600€. The intelligent flight modes are especially noteworthy and are missing on many of DJI's much more expensive models:
Rocket Mode
Circle Fly Mode
These flight modes create cinematic aerial shots for you where the camera work and the flight is completely taken over by the drone. So you don't have to worry about the direction in which the drone flies or at what angle the camera is tilted towards you – it all happens automatically. Especially beginners will get their money's worth.
The Spark reaches a speed of almost 50 km/h in sport mode when there is no counter-attack. Furthermore you can shoot movies without the rotor blades spoiling the shot.
The flight time is with nearly 16 minutes a little bit too short for our taste and really fast over. Therefore it is worth considering buying the Fly-More-Combo Kit (like us) which contains another battery.

The range of almost 200m is okay for the price. Nevertheless, we have to admit that we are a bit disappointed, as the P3 standard variant could already achieve a distance of almost 300m without major transmission problems.
The video recordings are made in Full-HD with a frame rate of 30 FPS. In both good and bad lighting conditions, the DJI Spark's camera delivers good video material that is worth seeing (I really like the footage from the test video of the river!).
Pictures are taken with a resolution of 4000×3000 pixels at 12MP in JPG format. Unfortunately it is not possible to save the pictures in another format.
All in all, DJI delivers a great all-round package that can be interesting for the language fox. But if you are looking for a high-end drones, the Mavic Pro or the P4 Advanced is the better option.
Yuneec Typhon Q500 4K: Price performance winner
As known from Yuneec you get a lot of power for little money when buying a drone. The Q500 4k is the clear winner in our professional drone test. Both the video recordings and the snapshots of the CMGO3 (camera of the drone) have convinced us completely. The following video also shows you in detail why we made this decision.
Especially the razor-sharp video recordings have impressed us. For a price of currently not even 700€ you get a really cool quadrocopter that can record video in Ultra HD (4K) with 30 frames per second up to Full HD with 120 FPS.
The photos are taken with a resolution of 4000×3000 and 12MP and saved in JPG format. The pictures are sharp in depth and provide great snapshots.
The weight of the drone is about 1.7kg full load which is a bit noticeable in the air. A speed of 40 km/h you can fly with the drone. There is no sport mode, but in our opinion it is not necessary at all.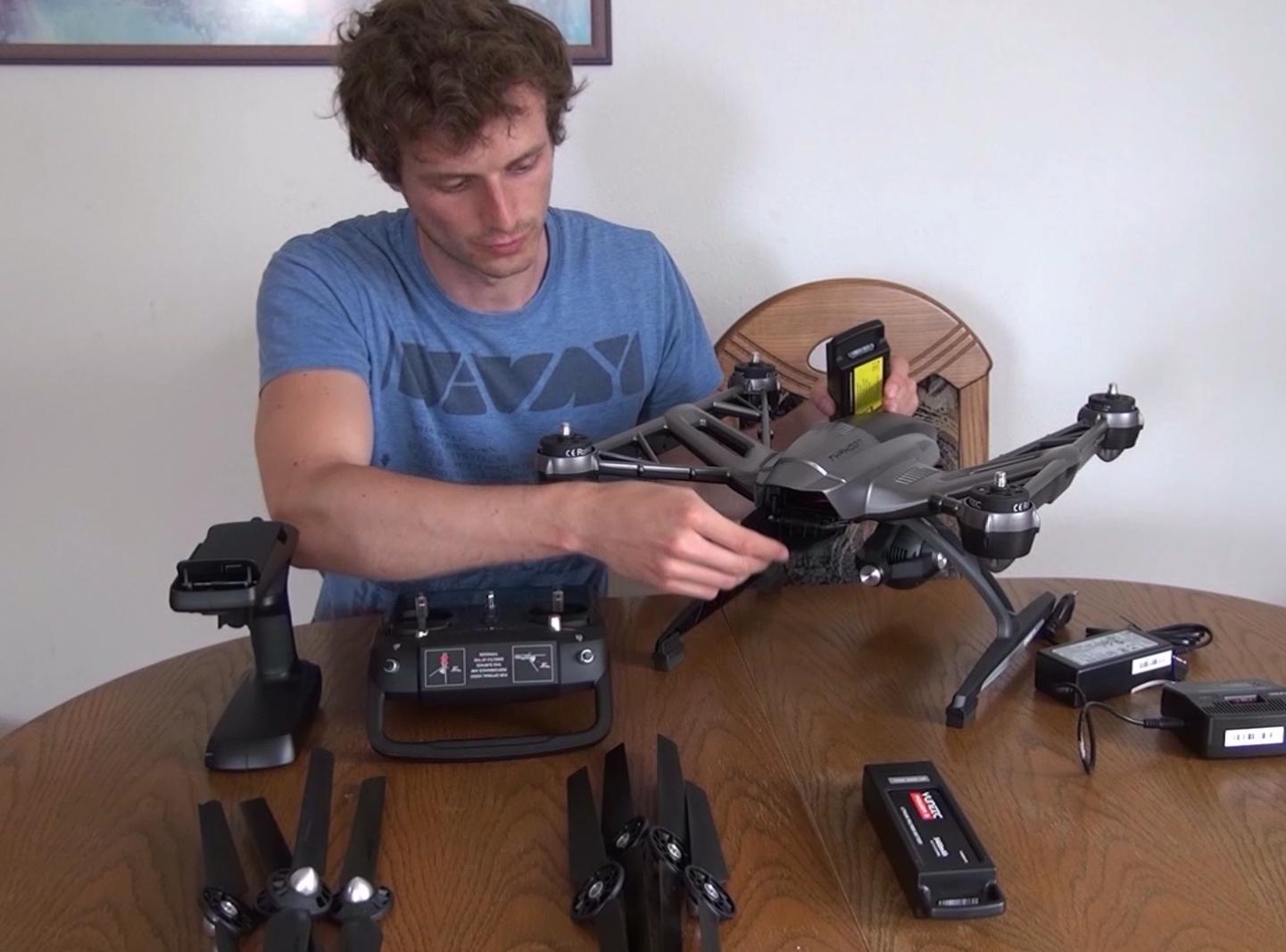 The flight behaviour is very good and even in stronger winds the unmanned flying object doesn't muck around but stands like a rock in the surf in the air.
The scope of delivery always includes two batteries which allow a flight time of a little more than 22 minutes per battery. This value is definitely okay for the really lavish equipment.
Yuneec also supplies a handheld gimbal on which you can mount the drone camera. The whole thing is really easy: You take the camera off the drone and simply slide it onto the rail of the hand gimbal and you have a ready made selfie stick. This very simple but effective technique is a lot of fun and saves you from buying an extra GoPro with Selfie Stick or similar equipment.
To sum up, we can say that Yuneec offers a really great package with this model that is unbeatable on the market for your price.
Conclusion to our comparison
Buying a drone is a really difficult and not easy decision, because there are a lot of different parameters that influence your decision to buy.
If you're looking for a beginner drone with really great flight modes, the DJI Spark is definitely the best choice.
If you are a frequent traveler and have a high demand for photo and video shooting, the Mavic Pro is the best choice, because this quadropointer can be folded and transported around your backpack.
Professional filmmakers who have the highest demands on their drones should choose the Phantom 4 Advanced or Professionel model. Not only the long flight time, but also the video recordings in 4k with 60 FPS will convince the cinema audience of your drone film.
All beginners as well as advanced users who are looking for a lot of drones at a low price can get a bargain with the Yuneec Q500 4k.
We hope that our report helped you with your purchase decision.
If you have any questions, suggestions, additions or if you are missing something in our comparison, please leave a comment for us. We will contact you as soon as possible.