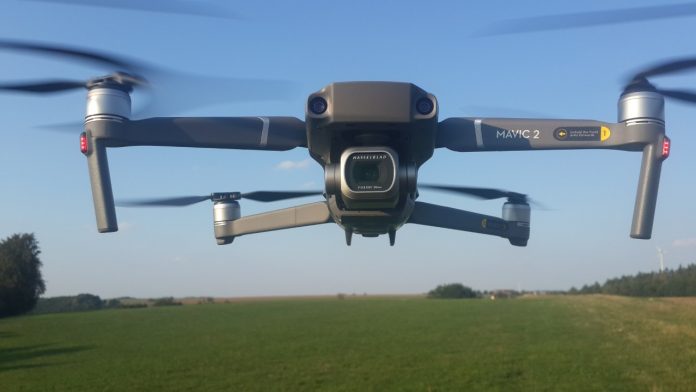 | | |
| --- | --- |
| Spaßfaktor | |
| Flugverhalten | |
| Materialqualität | |
| Aufnahmequalität | |
| Preis-Leistung | |
| Average 0/5 | |
After the very popular version Mavic Pro 1, the Mavic 2 follows in two different versions: The Mavic 2 Pro and the Mavic 2 Zoom. Both models are slightly different, but each offers different application possibilities.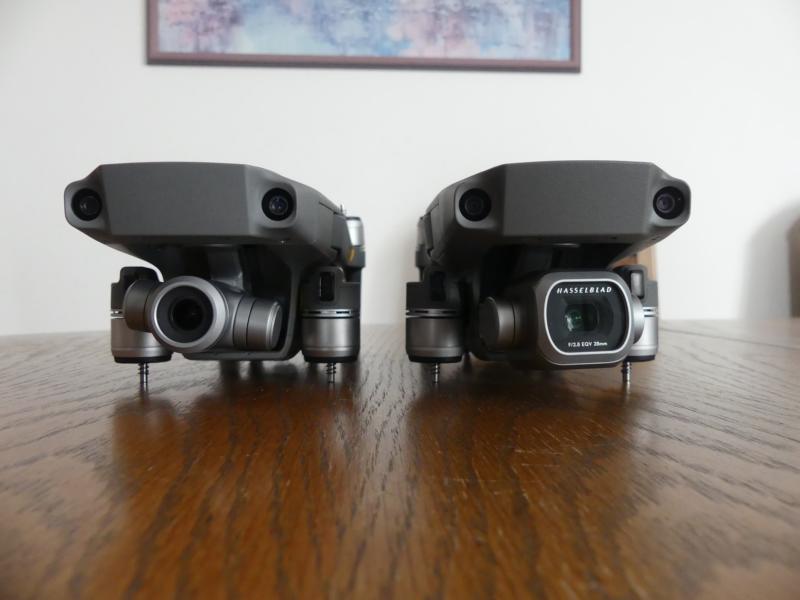 The Mavic 2 Pro (1.449€) is 200€ more expensive than the zoom version (1.249€), because a very high-quality Hasselblad camera is attached to it, which is supposed to produce forbidden good photos and videos. We took a closer look at the two drones and in our Mavic 2 Pro test we show you what you can actually expect from this quadrocopter in practice.
Here you can see my detailed Mavic 2 Pro test:

>> Mavic 2 Pro günstig kaufen* <<
Mavic 2 Pro: foldable, small and compact
The Mavic 2 Pro, like its predecessor, is a foldable drone that fits into even the smallest travel backpack. We immediately ordered the Fly-More combo package, as we are on the road a lot and can therefore transport the drone optimally. The package also includes a spare propeller, two additional batteries and a cigarette charger for the car.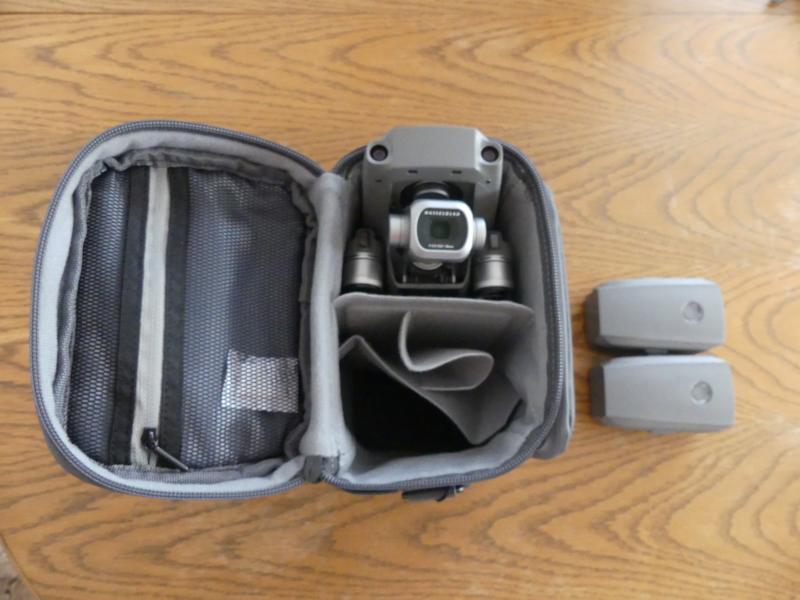 When folded, both quadrocopters are about 21cm long, 9cm wide and nearly 8.5cm high. When folded out they measure 32cm length, 24cm width and also 8.4cm height.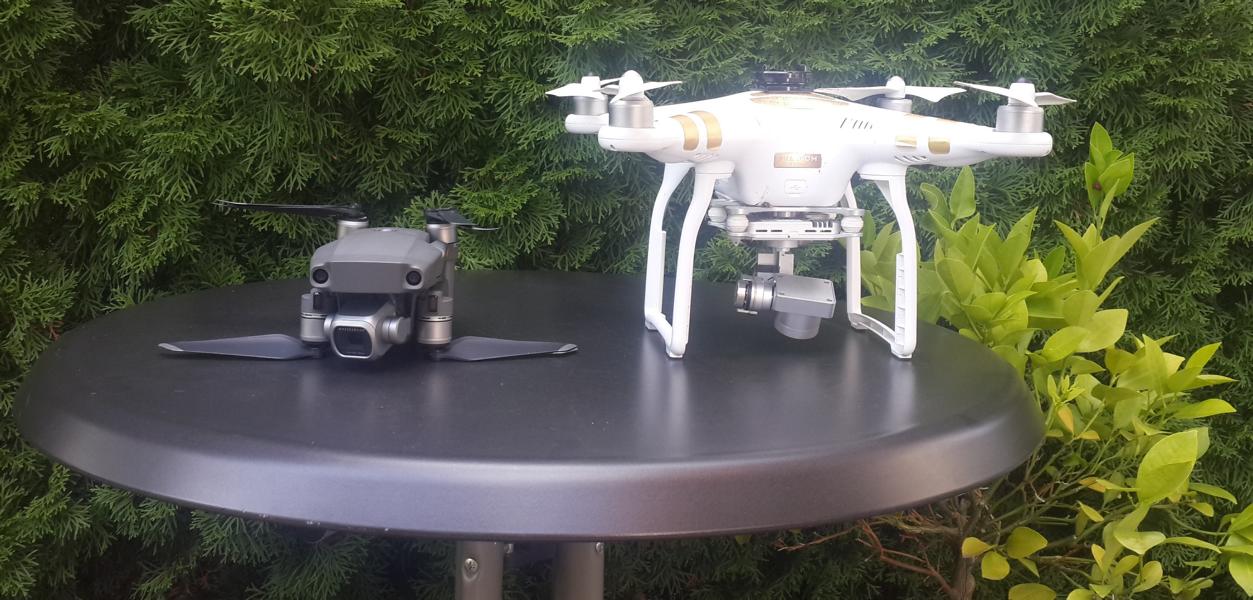 The remote control again has a display that can be very useful to bring the drone back home in case of an emergency, when the connection to the mobile phone is lost. Mobile phones up to a size of 6 inch screen diagonal fit into the remote control.

The video image is transmitted in Full-HD (1080p). Furthermore, the small joysticks can be unscrewed, so that the folded controller is very small and compact and the joysticks are protected against possible breakage.
>> Mavic 2 Pro günstig kaufen* <<
Both Mavic Pro 2 and Mavic 2 Zoom have 8GB of internal memory to store photos and videos. This allows you to record either 10 minutes of 4k video or 30 minutes of full HD movies. With a USB-C port, you can read the data afterwards and transfer it to your laptop. Unfortunately the batteries can not be charged over it.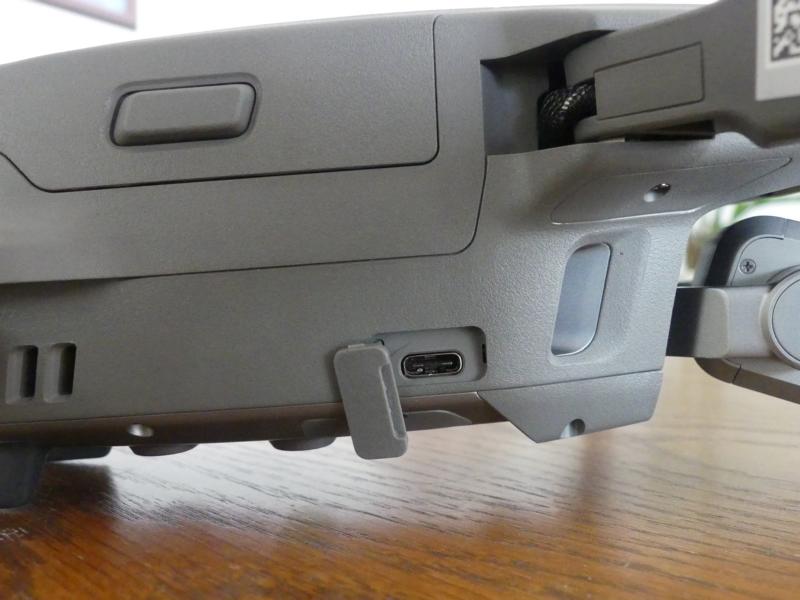 Of course the drones have an extra slot in which you can insert SD card up to a size of 128GB and a read/write speed of up to UHS-I class 3.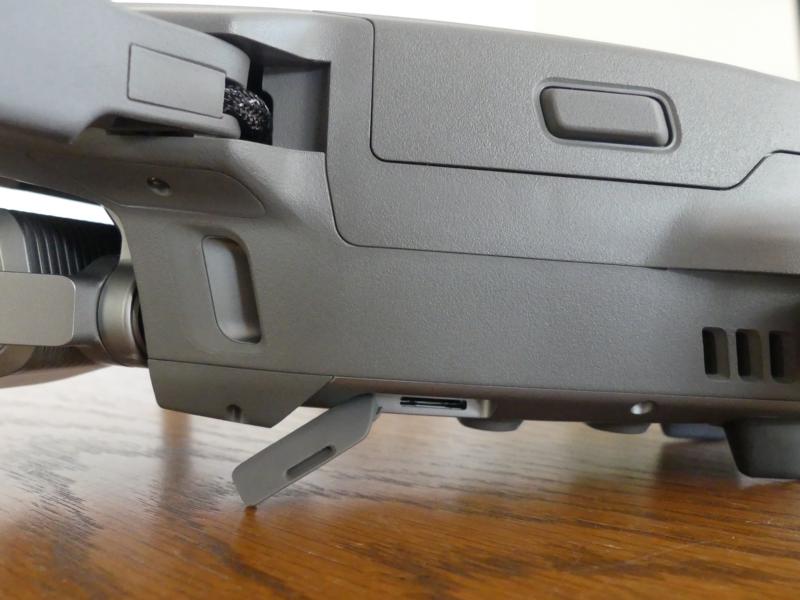 The following models (which are listed by DJI on their website) are supported:
32G Sandisk V30
Sandisk Extreme V30 Pro 64G
Sandisk Extreme Pro V30 128G
Sandisk Extreme V30
Sandisk Extreme Pro V30
Kingston
The rotor blades are easy to attach and detach, and you can change them in seconds. They can also be folded up to keep the quadrocopter small and compact.
A battery has a capacity of mAh 3,850 mAh and is fully recharged after approx. 45 minutes using the charger supplied.
Mavic 2 Pro camera sensor: photo and video quality
The only real difference between the DJI Mavic 2 models is the built-in camera. The DJI Mavic Pro 2 has a 1 inch CMOS sensor from Hasselblad, while the zoom version has a smaller 1 / 2.3 inch sensor and a 24-48mm zoom lens. Apart from the DJI Inspire models, this is by far the best camera the drone manufacturers have ever used.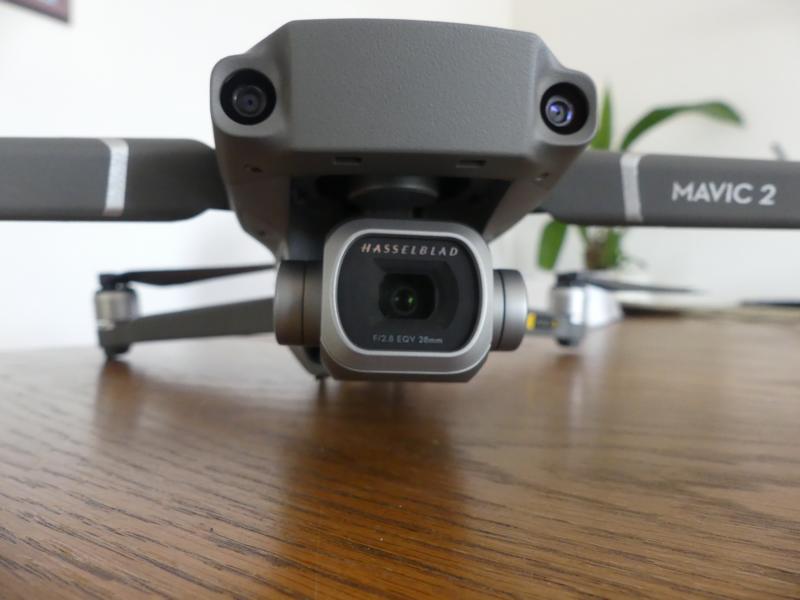 The 1-inch sensor can produce incredibly good photos and videos even in low light, because by using the sensor you can adjust how much light from the surrounding area should be collected.
>> Mavic 2 Pro günstig kaufen* <<
This allows for better resolution and a wider dynamic range, which provides slightly better photo and movie recording. This allows a truly impressive depth of colour and depth of field to be achieved. The pictures as well as video recordings look even more realistic. The camera supports the following video formats:
4k with up to 30 frames per second
2.7k up to 60 frames per second
Full-HD up to 120 FPS
You can record either in MP4 or MOV
Photos can be taken in JPG as well as in RAW DNG Forma with a resolution of 20 megapixels.
Beginner pilots will probably only fly in automatic mode, but this manual aperture control offers tremendous possibilities for professional photographers and filmers.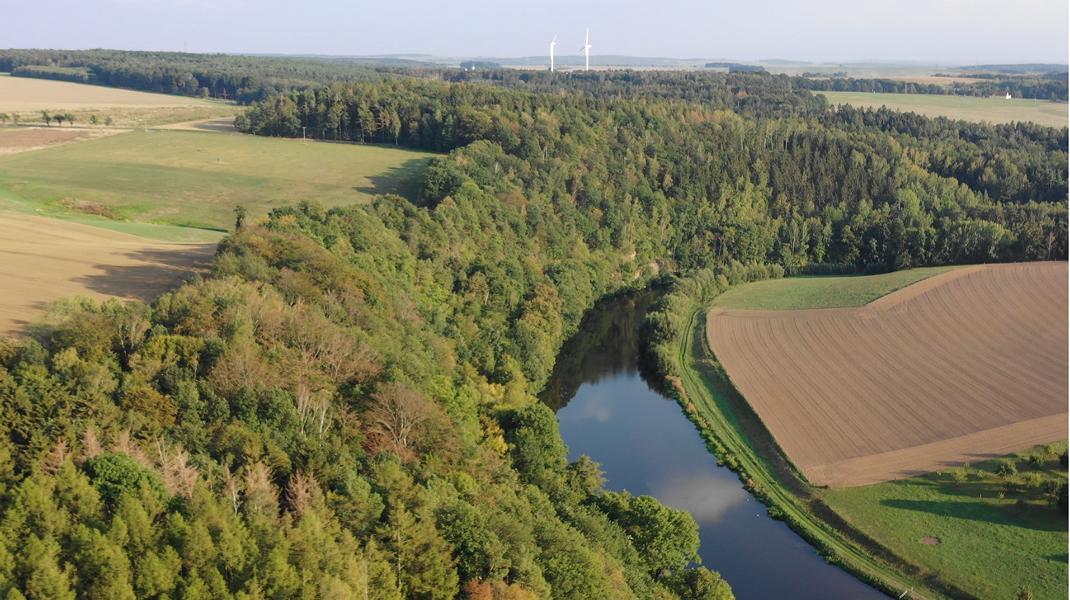 The other great feature is the Dlog M10 bit color recording. Without going too much into technical details, it should be said that the Mavic 2 Pro can record more than a billion discrete colors, while the Mavic 2 Zoom can "only" record 16 million. This difference can be seen even by beginner pilots when they look at it afterwards on a large screen.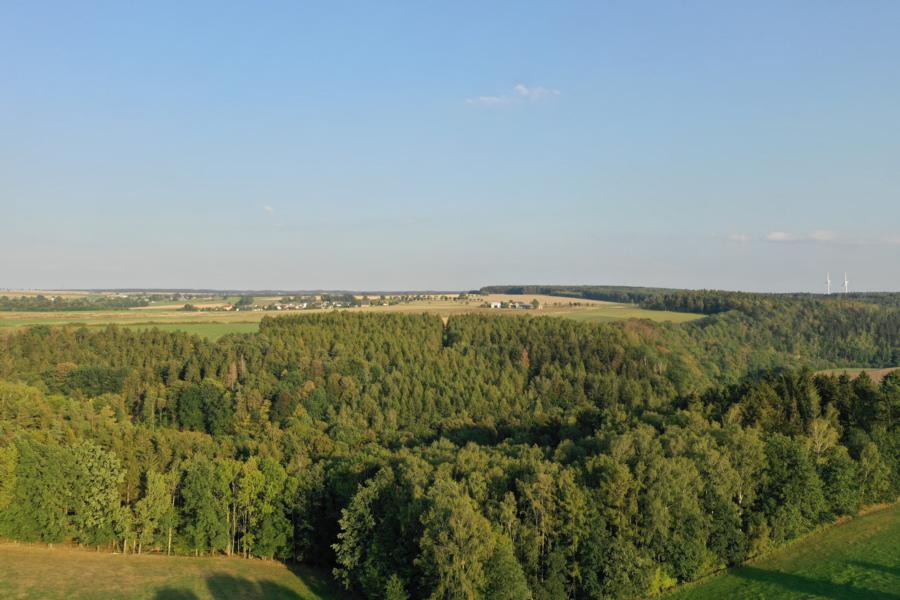 Especially demanding drone pilots can get the most out of their photo and video recordings afterwards, as the features mentioned above support optimal post-processing.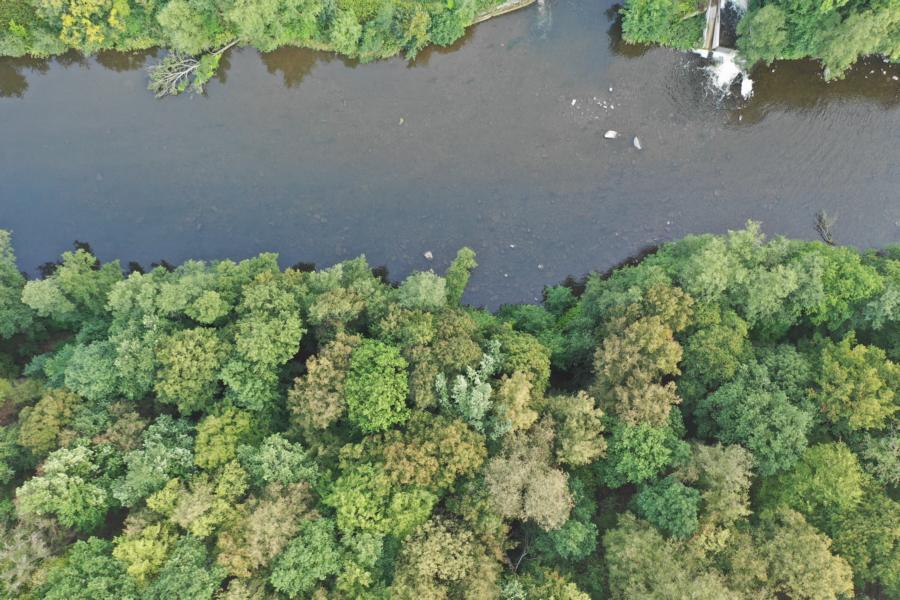 The Mavic 2 Zoom has the slightly "worse" camera, but the Mavic 2 Pro cannot zoom. The Mavic 2 Zoom has a 2x optical zoom (24-48mm) as well as a 2x digital zoom. For a 4k video recording, you can zoom 2x lossless and in Full-HD 4x lossless. With the latest software update, DJI has added another 2x digital zoom, allowing for a total of 2x optical and 4x digital zoom (for Full-HD recordings!)
As we found out in our tests, this zoom function is an absolute killer feature that will be a decisive buying argument for some pilots. By using the zoom, incredibly powerful video recordings can be produced. Furthermore, the dolly zoom effect, once created by Alfred Hitchcock, can give your videos a very cool look (only available with the zoom version!).
>> Mavic 2 Pro günstig kaufen* <<
In our opinion, unless you are a professional photographer or filmmaker, the smaller image sensor can be completely neglected, as this zoom function can be used in an incredibly wide range of ways. Even beginners can generate cinema-quality images by using it.
From the company's point of view it is cleverly solved to let the pilot choose between one of the two models, but we think it is a pity that there is no molecular camera system where the advantages of both cameras can be used specifically. But perhaps another model that meets this requirement will follow in the near future. The DJI Inspire 2 has interchangeable cameras, even though it is of course in a completely different league.
Range, flight time and behaviour in the air
During the first flight tests we noticed that DJI tinkered with the sensors and the flight behaviour. This has become even better and in our opinion almost without competition, because the drone is standing in the air as if chiseled in and can even withstand stronger gusts of wind.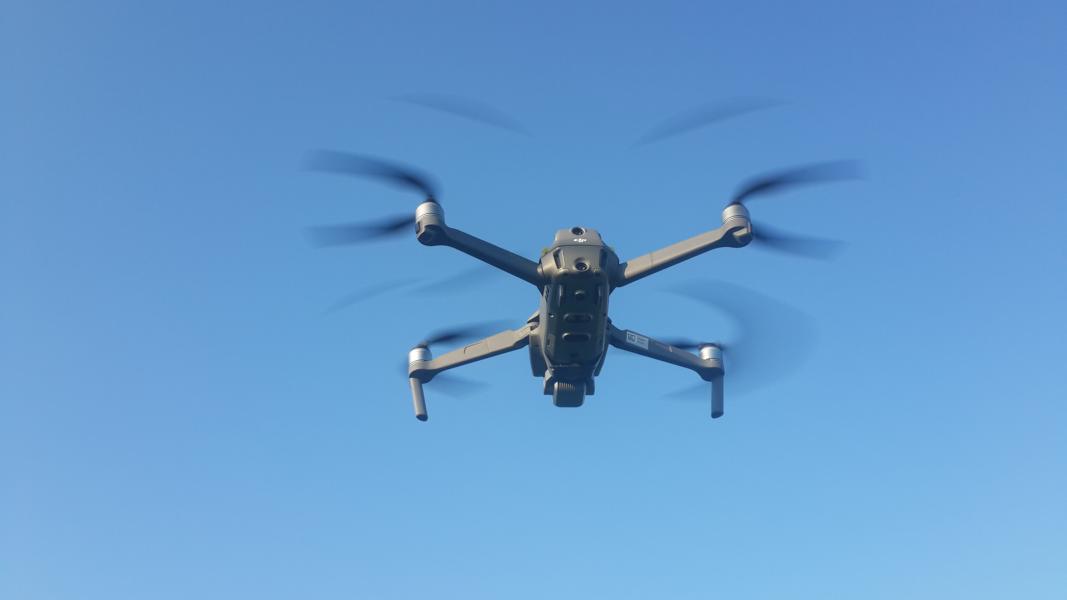 Compared to other drones, the DJI Mavic Pro 2 has significantly improved sensor technology, providing a much better flight experience and more balanced stability in the air.
The Mavic 2 Pro has a total of 10 obstacle sensors on all sides, even upwards. This increases flight safety once again and is a great feature, especially for beginners. Even in narrow rooms or alleys, the Vision Positioning System ensures a safe flight attitude without collisions. The smallest movements are immediately registered and balanced by the vision system using small cameras underneath the Mavic Pro 2.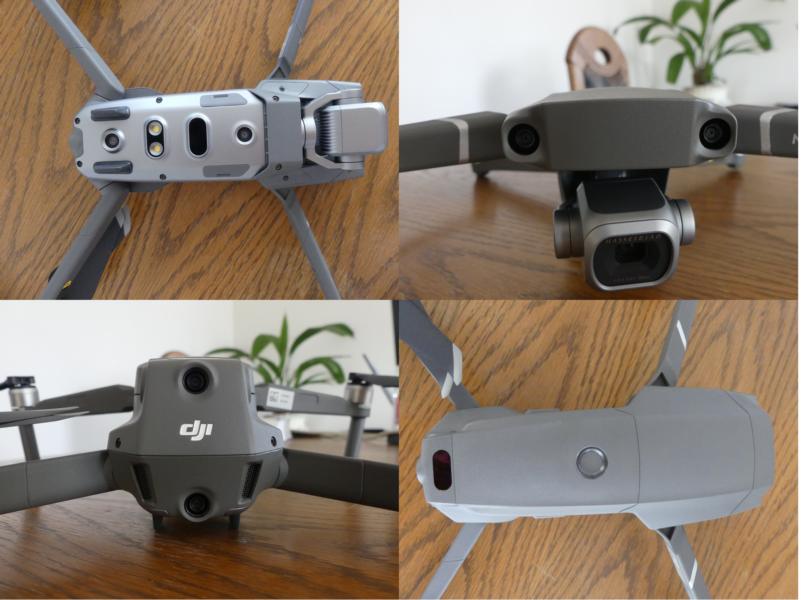 Many drones cannot be flown so safely and stably once a GPS signal is no longer available. However, due to the Vision Positioning System, the Mavic Pro 2 can be controlled very safely and comfortably even without GPS.
We could not reach the indicated flight time of nearly 31 minutes in practice. Under full load we were able to achieve an effective flight time of just under 28.5 minutes. The predecessor model could only stay in the air for about 23 minutes. But since we always have two additional batteries in our luggage we can stay in the air for almost 90 minutes. Nevertheless, half an hour is a very respectable value in any case.
The maximum rate of climb is 5 meters per second in sport mode when there is no wind and 4 meters per second in normal mode. In both modes the sink rate remains the same at 3 m/s. In sport mode, as already mentioned, the Mavic Pro 2 can reach a top speed of up to 72 km/h. A maximum rotation can be made at 200 degrees/s.
>> Mavic 2 Pro günstig kaufen* <<
The maximum range is estimated by the manufacturer to be 8km, whereas in Germany, according to the current law, flying is only allowed within visual range (in practice mostly 300m) anyway. We have used the Mavic Pro 2 in another country outside of Europe and had no problems up to a distance of 5.500m. There were no latencies or jerking during the transmission.
The depth of field as well as the automatic adjustment to changing light conditions is really impressive and works perfectly at any time. The camera is stabilized by a 3-axis gimbal system and does a very good job. Even in sports mode, there is never any shake in the video. Furthermore, the propellers are no longer visible on photos and videos. Here you can see a sample footage, the complete video review I have to cut first.
New flight modes for even more cinematic shots
In addition to the already familiar flight modes, DJI brings two new features with a reworked Active Track 2.0 as well as hyperlapse functions that will make the hearts of drone pilots beat faster.
The new Active Track should be able to calculate the movement of objects up to 3 seconds in advance, so that the quadrocopter does not lose sight and connection even in the case of suddenly appearing obstacles that cover the drone. We can say that this feature really works perfectly and doesn't lose sight of us even at higher speeds and sudden changes of direction.
DJI has done a great job with the hyperlapse function. This new flight mode is incredibly versatile and creates great (without having to use the film editing program!) movie shots. The hypelapse mode can be used in three different ways (submodes).
In "Free" mode, the DJI Mavic 2 Pro's camera automatically generates time-lapse shots, while at the same time it flies by itself and you don't have to do anything else.
If the "Circle" mode is activated, time-lapse videos are generated and at the same time the drone flies a circular flight around the aircraft.
Furthermore there is the "Course Lock" mode. The drone fixes itself on a point on the horizon and flies very fast straight ahead at the same time. This feature was also available on other DJI models.
Advantages and disadvantages of the Mavic 2 Pro
As with all drones, there are both good and bad sides, although we find it really hard to find anything negative about the new models.
Advantages:
20 MP camera with a video recording quality of 4K at 30 frames per second and 2.7K at 60 fps
Maximum video bitrate is 100 MBps
Supports DNG (RAW format)
Foldable drone – can be easily transported anywhere
Withstands strong gusts of wind
Extensive safety package, including Vision Positioning System, which ensures a very stable flight attitude, even if the GPS system fails
Extensive features and flight modes for a better flight experience
8 kilometres transmission range
Flight time of 28 minutes
Sophisticated newly revised gimbal system
Also perfect for beginners – the drone automatically flies around obstacles
Cons:
Mavic 2 Pro: The best drone on the market today?
Those who have seen the previous model, the DJI Mavic Pro Quadrocopter, will love the successor.
The extensive security features as well as the Hasselblad camera make DJI's new flagship an absolute marvel. For photographers, the long flight time also makes sense, as they don't have to stop over so often.
>> Mavic 2 Pro günstig kaufen* <<
For the first time in a drone camera, the new Dlog-M color profile was installed in such a compact traveling drone, the Mavic Pro 2. Photographers and videographers, who like to edit their pictures, will be pleased with the results.
But there are also many small details that are new and make everyday handling and flying with the drone easier, such as the removable stick on the remote control, or the very sophisticated sensor technology.
With the DJI Mavic 2 Pro, DJI has launched a quadrocopter that can hold its own against its competitors. It is not for nothing that many manufacturers have already tried to copy the previous model.
From us there is a very clear recommendation to buy! If you have further questions about the quadrocopter, please use the comment function at the end of the page!
>> Here you can get the Mavic 2 Pro at a very good price <<
Technical details at a glance
Mavic 2 Pro camera
Sensor 1" CMOSactual
pixels: 20 million lens
Field of view: 77°35
mm Format equivalent: 28 mmImage
: f/2.
8
-f/11Capture range
: 1 m to
∞ISO rangeVideo:
100 – 6400Photo
:
100 – 3200 (Auto)
100- 12800 (Manual)
Exposure time Electronic shutter: 8 – 1/8000 secImage size
5472×3648Photo modes
Single-shot Continuous shooting
3/5 image bracketing
(AEB): 3/5 3/5 focused frames with 0.7 interval exposure level deviation
:
(JPEG: 2/3/5/7/10/15/20/30/60 sRAW: 5/7/10/15/20/30/60 s)
Video resolution 4K: 3840×2160 24/25/30 fps2
.7K: 2688×1512 24/25/30/48/50/60 fpsFHD
: 1920×1080 24/25/30/48/50/60/120 fpsMax
.
Video bit rate 100 MbpsColor modes
Dlog-M (10 bit), supports HDR video (HLG 10 bit)
Supported file systems FAT32(≤ 32
GB)exFAT(> 32
GB)Fotoformate JPEG, DNG (RAW)
Video format MP4/MOV (MPEG-4 AVC/H.264, HEVC/H.265
Aircraft Mavic 2 Pro
Take-off weight 907 g (Mavic 2 Pro
)Dimensions Folded:
214×91×84 mm (length×width×height)
Unfolded:
322×242×84 mm (length×width×height)
Diagonal distance 354 mmMax
.
5 m/s (S mode)
4 m/s (P mode)
Max
.
Sink rate 3 m/s (S mode)
3 m/s (P mode)
Max
.
Speed (Near sea level, without wind) 72 km/h (S mode)
Max
.
Altitude above sea level 6000 mMax
.
Flight time (Without wind) 31 minutes (Without wind at 25 km/h)
Max. Hover time (Without wind) 29 minutesMax
.
Flight distance (Without wind) 18 km (at 50 km/h)
Max
.
Wind resistance 29 – 38 km/hMax
.
Pitch angle 35° (S mode with remote control); 25°(P mode)
Max
.
Angular velocity 200°/soperating temperature
-10°C – 40°Coperating frequency
2.400 – 2.483 GHz5
.725 – 5.850
GHzEIRP 2.400 – 2.483
GHzFCC:≤26
dBmCE:≤20
dBmSRRC:≤20
dBmMIC:≤20 dBm5
.725-5.850
GHzFCC:≤26
dBmCE:≤14
dBmSRRC:≤26 dBm
GNSS GPS + GLONASS
Vertical hovering accuracy
:±0.1 m (with visual positioning)
±0.5 m (with GPS positioning)
Horizontal
:±0.3 m (with visual positioning)
±1.5 m (with GPS positioning)
Internal memory 8 GB
Visual system
Vision system Omni-directional obstacle detectionForwards
Precise measuring range: 0.5 – 20 mSensing range
: 20 – 40 mEffective
detection speed: ≤14
m/sField
of view
(FOV) : Horizontal: 40°, Vertical: 70°Reverse
Precise measuring range: 0.5 – 16 mSensing range
: 16-32 mEffective
detection speed: ≤12 m/sField of view
(FOV) : Horizontal: 60°, Vertical: 77°Up
Precise measuring range: 0.1 – 0.8
mAdownwards Precise measuring range: 0.5 – 11 mSensing range
: 11 – 22 mSideways
Precise measuring range: 0.5 – 11 mEffective
detection speed: ≤8
m/sField
of view
(FOV) : Horizontal: 80°; Vertical: 65°Operating environment
Forward, backward and sideways:
Surface with clear contours and sufficient light (lux > 15)Upwards:Detects surfaces with diffuse reflections (>8%) (trees, people, etc.)
Down: Surface with clear contours and sufficient lighting (lux > 15)Detects surfaces with diffuse reflections (>8%) (trees, people, etc.)
Charger Mavic 2 Pro
Input 100-240 V⎓2/60 Hz,1,8AOutput
Main output: 17,6 V ⎓ 3,41 Aor
17,0 V ⎓ 3,53 OUTPUT: 5 V⎓2
ASpannung 17,6 ± 0,1 VNominal power
60 W
DJI GO 4 App
Video Transmission System OcuSync 2.0Designation
DJI GO 4Quality
Live View Remote Control:
720p@30fps / 1080p@30fpsDJI
Goggles:
720p@30fps / 1080p@30fpsDJI Goggles RE:
720p@30fps / 1080p@30fpsLatency
(Depending on environmental factors and the mobile device used) 120 – 130 msMax
.
Bit rate Live transmission 40 Mbit/sRequired
operating system iOS 9.0 or higher, Android 5.0 or higher