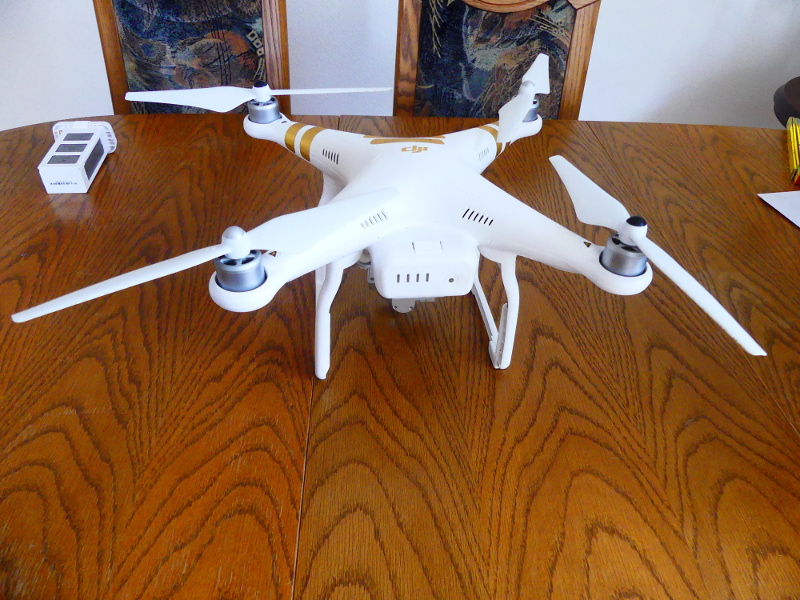 | | |
| --- | --- |
| Spaßfaktor | |
| Flugverhalten | |
| Materialqualität | |
| Aufnahmequalität | |
| Preis-Leistung | |
| Average 0/5 | |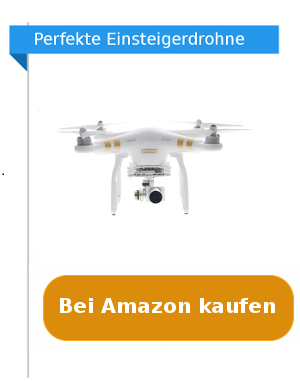 We have once again tested a high quality drone from DJI for you
.
Recently we have also tested the DJI Phantom 3 Standard, which is much cheaper in price and especially suitable for beginners due to its stable flight characteristics and high agility.
However, the camera quality didn't completely knock us off our feet during the test at the time, so we ordered the DJI Phantom 3 Professional directly, as it has a 4K camera and produces much better shots.
If you want to see the DJI Phantom 3 Professional in action right now, take a look at our test video:
The Phantom 3 Professional has proven in tests that DJI is simply a very good drone manufacturer. If you are looking for a quadrocopter that is very stable in the air, fast, agile and agile and also has a 4k camera with which you can shoot high-quality videos and photos, this drone is one of our top favorites.
Of course there should be some budget available. The Professional is a few hundred euros more expensive than the Phantom 3 Standard.
DJI Phantom 3 Professional Included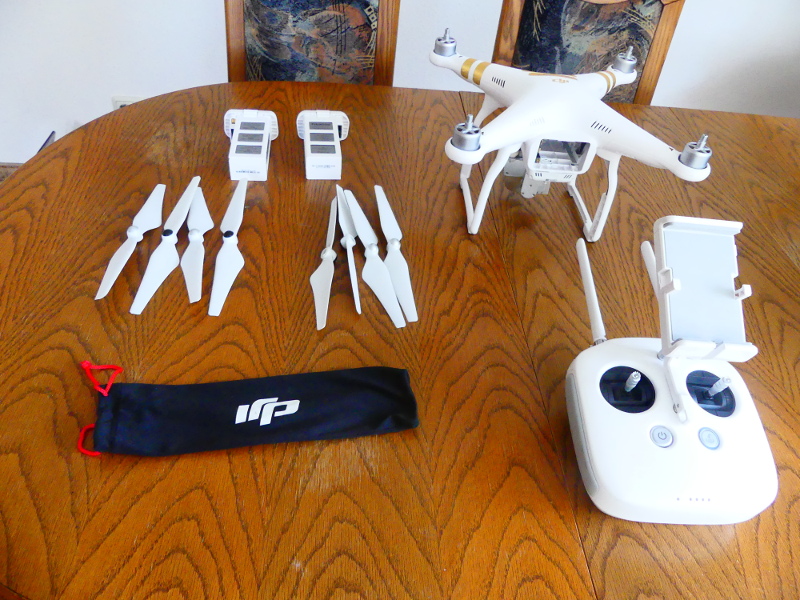 On the one hand, the scope of delivery includes the almost 1.3 kg heavy drone. So relatively light, the Quattrocopter is accordingly also in the air quite fast and agile.
Also included is an extra propeller set (a total of 8 propellers), a charger with which both the battery and the remote control of the drone can be charged.
Further accessories
Remote control
Video transmission system
Integrated 4K camera
LiPo battery
If you want to use several batteries, make sure you only buy original batteries and not cheaper copies from dubious manufacturers. There have been cases here where the drone went up in flames. So keep your eyes open when buying batteries!
A 16 gb memory card is included as standard. However, due to the high camera resolution, this card is quickly full. We bought a 64 gb memory card and were able to record one hour of video material continuously.
Test criteria and differences to other DJI models
Image quality
Compared to the DJI Phantom 3 Standard, the DJI Phantom Professional is much more powerful when it comes to image and video material. The image transmission is also much smoother.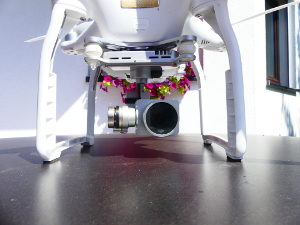 The integrated 4K camera is made by Sony and has 12 megapixels. It produces 25 pin-sharp, high-quality images per second, in FULL-HD even up to 60 FPS (frames per second).
However, one can only enjoy this outstanding performance with the Professional.
Create breathtaking video material with a resolution of up to 4096 x 2160 pixels at the touch of a button.
This camera really blew our minds on video quality. Also the photos and the many adjustment possibilities of the camera. But more about that later!
So you don't need an extra GoPro camera like the GoPro HERO4 Black, which alone costs over 300 Euros. This also explains the huge price difference between the DJI Phantom 3 Standard and the Professional.
Setting options of the camera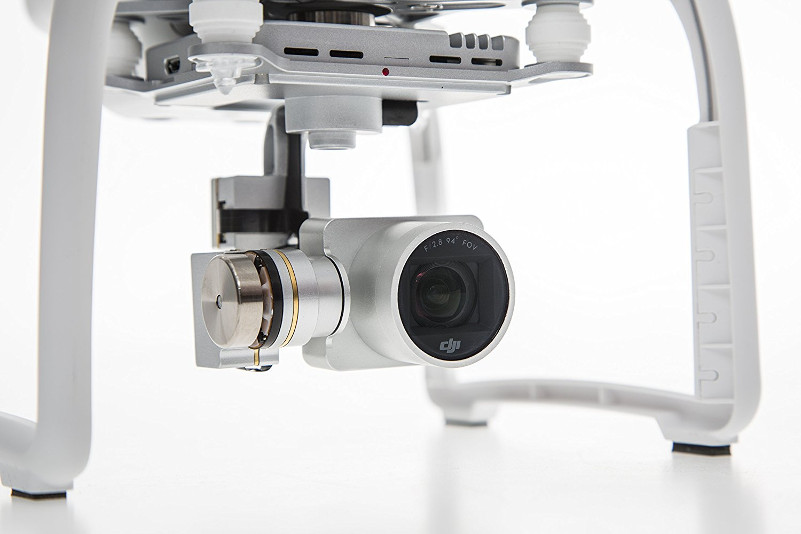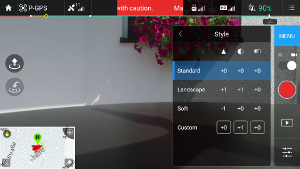 The app for the DJI Phantom 3 Professional offers many setting options, among others, the resolution can be set between Full HD and 4x Full HD (4K), whereby the FPS collapses somewhat with increasing resolution (minimum 25 FPS, maximum 60 FPS). But this is not noticeable in the video quality.
Individual photos that you take can be saved in RAW format, making it easier to edit the images on your PC in a variety of ways.
Furthermore, depth of field, personal contrast settings and a white balance can be adjusted.
The remote control is much more powerful compared to the previous model.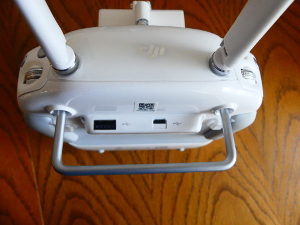 The drone camera can be moved up and down using the left wheel on the radio remote control.
The right-hand dial is used to set the ISO (white balance) value.
So you can directly intervene in the "optic nerve" of the camera and comfortably adjust the light sensitivity in flight.
Reach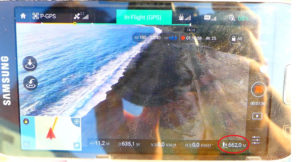 The remote control of the DJI Phantom 3 Professional has a lightbridge.
This allows for greater transmission and reception ranges and image transmission over a greater distance.
In our test we found a range of about 662 meters, where the drone still delivers a clean picture to the remote control and finally to the smartphone or tablet.
This is more than twice as far as the Phantom 3 Standard, which in our test did not provide uninterrupted transmission after only 300 meters.
The Phantom 3 Professional is said to have a range of up to 2000 meters and is throttled at 500 meters altitude. It is essential to observe the current drone laws regarding maximum altitude and distance to the pilot.
According to the latest drone regulations, you may only fly your drone within visual range!
Weight
The Professional is only 64 g heavier than the Phantom 3 Standard, which is hardly noticeable in flight.
Flight characteristics
Compared to the Standard, however, the Professional has improved sensor technology, which leads to even better flight characteristics and an improved stable position in the air.
The Vision Positioning System makes the Phantom 3 Pro stand like nailed to the ground even in tight spaces.
Therefore it has a small camera below and an ultrasonic sensor. With this it registers the smallest movements and compensates them.
Thanks to the Vision Positioning System it is possible to fly very safely and comfortably, even if no GPS signal is available at the moment. This makes the DJI Phantom 3 Professional attractive for beginners and career changers.
Flight duration
In our test we were able to fly the Professional for 2 minutes longer than the DJI Phantom 3 Standard, which resulted in a flight time of about 24 minutes. After about 1 hour, however, the drone's battery is fully recharged.
Compass Calibration
The DJI Phantom 3 Professional has an internal compass. You'll need to recalibrate and calibrate it from time to time, as
its function and accuracy deteriorates
over time
due to external influences
.
Fortunately, the compass does not have to be calibrated before every start. However, if you go to a location more than 100 km away
, there will be a slightly different magnetic field and you will have to recalibrate the drone
.
If the flight characteristics become worse and worse over time, recalibration can also help, sometimes it's the compass.
You should always calibrate the drone outdoors, far away from electronic devices and magnetic influences.
For the calibration you proceed as follows:
Step #1 – The remote control should be switched on and connected to the DJI app and the droneStep
#2 – Click on "Mode" in the app and then on "Compass Calibration".
Step #3 – Follow the instructions in the app.
Step #4 – Rotate the drone in a horizontal position by hand once around its axis.
Step #5 – Take the drone in vertical position and rotate it around its own axis again.
New flight modes: Follow me, Point of interrest, Waypoint
Very helpful are the new flight modes, which are not available in the DJI Phantom 3 Standard.
This allows you to automatically produce clean, wobble-free recordings without having to consciously control the drone.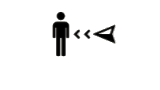 In Follow me mode the drone follows at a distance determined by you.
This mode allows you to be filmed by the drone during sports and outdoor activities. However, when practising your hobbies, do not forget that the drone has a limited battery life!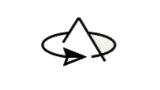 The Point of interrest mode lets the drone circle around a previously defined point.
In a perfect circle, the drone flies around an object with the camera pointed at it.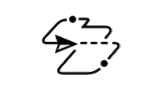 Waypoint mode: You fly to a few waypoints and save your position, then you can call up the saved route in waypoint mode and the drone will fly the set points.
Technical data
Drone
Weight (with battery & propellers)
1280 g
Diagonal size (without propeller)
350 mm
Max. Climbing speed
5 m/s
Max. Sink rate
3 m/s
Hovering accuracy

Vertical: ± 0,1 m (with active optical position sensing) or ± 0,5 m
Horizontal: ± 1,5 m

Max. Airspeed
16 m/s (ATTI mode, no wind)
Max. Altitude above sea level
6000 m (software height limit: 120 m above the starting point)
Operating temperature
0° to 40° C
Positioning
GPS/GLONASS
Max. Flight time
approx. 23 minutes
Camera
Sensor
1/2.3″ CMOS effective
pixels: 12.4 M (total pixels: 12.76 MP)
Lens
FOV 94° 20 mm (corresponds to 35 mm format) f/2.8 Focus on ∞
ISO area
100-3200 (videos) 100-1600 (photos)
Electronic shutter
8s to 1/8000s
Max. Image size
4000 × 3000
Photo modes

Single shot
Continuous shooting: 3/5/7 frames
Exposure bracket: 3/5
Focused frames at aperture 0.7
Time lapse

Video recording modes

UHD: 4096x2160p 24/25, 3840x2160p 24/25/30
FHD: 1920x1080p 24/25/30/48/50/60
HD: 1280x720p 24/25/30/48/50/60

Supported SD memory cards
Micro SDMax
.

Storage capacity: 64 GB. Class 10 or UHS-1

Max. Video bitrate
60 Mb/s
Supported file systems
FAT32 (≤ 32GB); exFAT (> 32GB)
Operating temperature
0° to 40° C
Photo
JPEG, DNG (RAW)
Video
MP4 / MOV ( MPEG – 4 AVC / H.264 )
What we liked and what we didn't like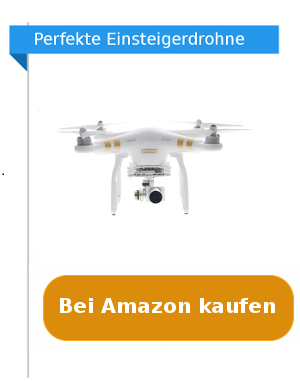 We liked how extremely stable & maneuverable the DJI Phantom 3 Pro can be maneuvered through the air.
It's quite a lot of fun with this drone to get up to speed, fly steep turns and make fast, tight circles.
This drone doesn't have pre-programmed stunts like the Parrot Bebop 2, but you're guaranteed to have a lot of fun with the Phantom 3 Professional!
What's a bit annoying is the calibration of the drone. We have already described how to do this in the test report above.
You have to recalibrate the DJI Phantom 3 Professional after a while or when you change location (>100 km) and calibrate the inner compass.
Buy DJI Phantom 3 Professional
On our page Drohne-check.de the DJI Phantom 3 Professional is one of the best drones we have evaluated.
You can buy the DJI Phantom 3 Professional here at Amazon.
We were especially impressed by the flight stability and agility in combination with the high image quality. Here you finally get a drone that not only takes very good pictures, but can also be controlled very comfortably, quickly and safely.
Even in moderate to strong gusts of wind we felt quite safe as drone pilots.
The most important differences to the DJI Phantom 3 Standard you know by now. Therefore, we will discuss the biggest advantages and disadvantages of the DJI Phantom 3 Professional in the following.
Advantages and disadvantages
During the test we could hardly find any significant disadvantages.
What we personally don't like are missing displays integrated into the remote control. For the DJI Phantom 3 Professional you need a smartphone or tablet.
Other devices on the market offer partly not very reliable apps here. But the DJI Go works very reliably, at least that's what it did in our test.
The app from DJI is really very mature and almost never crashes, runs very smoothly and is easy to use. Always make sure you have the latest update.
To give you an overview, here is a list of the advantages and disadvantages of the DJI Phantom 3 Professional:
Advantages
Very agile
Lies stable in the air even in strong gusts of wind
Well suited for beginners
High image and video quality
Stable App
No major weaknesses
Top price/performance ratio
Disadvantages
Screen not integrated in smartphone
Compass Calibration
Conclusion on the test of the DJI Phantom 3 Professional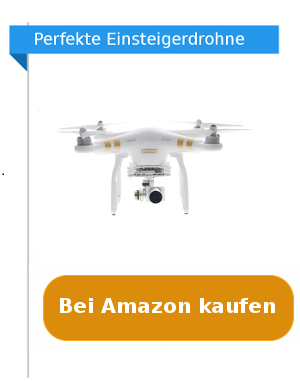 The DJI Phantom 3 Pro is especially convincing in its price/performance ratio. You get a mature drone, which does its job very well and is reliable.
The intelligent modes such as Follow Me, Point of interrest and Way Point mode in combination with the 4K camera make the Phantom 3 Pro suitable for professional use.
Besides, this drone is also interesting for beginners due to its high flight stability and safety!
Detailed configurations in the DJI Phantom 3 app and the use of the intelligent flight modes can be seen in our test video above.
You can find the current price here on Amazon, for example. If you still have questions, just ask us via comment!