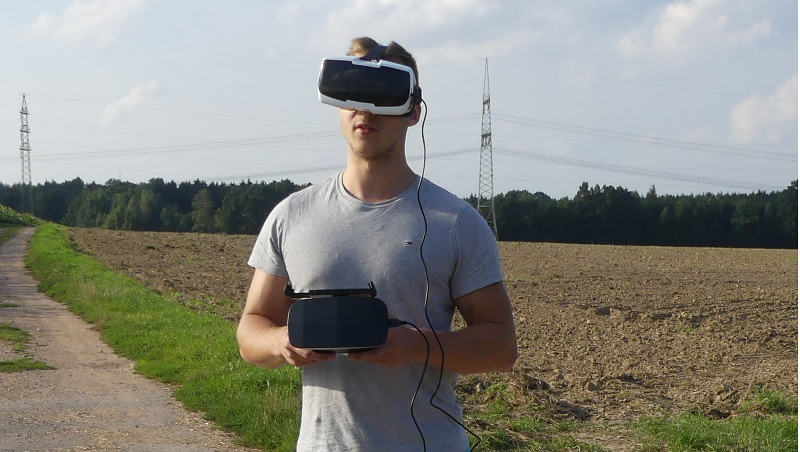 If a drone system is equipped with FPV (First Person Flight), you can watch the drone's video recordings live on a screen or by wearing FPV glasses.
We have tested some drones with and without such glasses and want to present you in this article a few models and explain what you should pay attention to when buying a high quality FPV video glasses.
Top three: FPV goggles in comparison
#1: DJI Goggles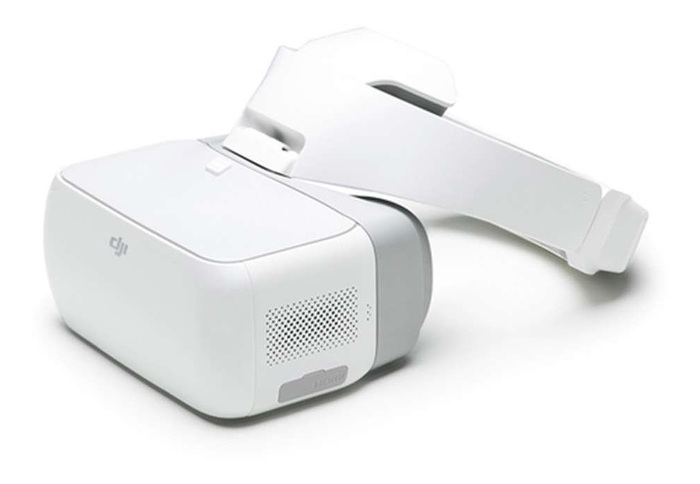 The DJI Goggles is a very high quality but also very expensive FPV goggles. Because of the high quality, numerous functions and adjustment possibilities it is our favourite!
It consists essentially of 2 elements: The headband and the actual video glasses. The total resolution is 3,840 x 1,080 pixels. Their high weight of 990 grams may seem a lot compared to other FPV glasses, but this is not a problem at all, even during longer use, as the weight is well distributed (video glasses: 490 grams & headband: 500 grams).
#2: Fatshark Dominator V2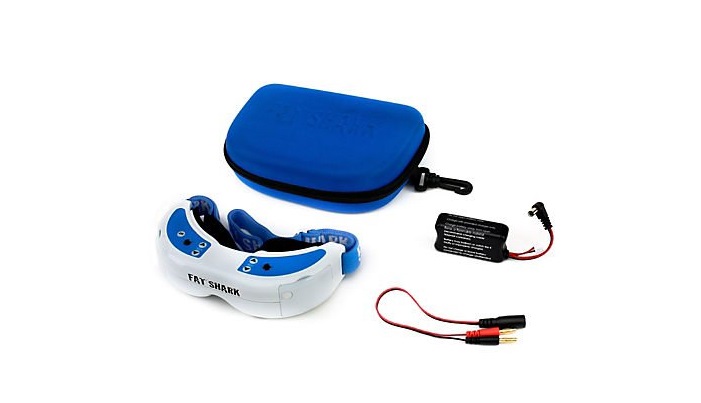 The Fatshark Dominator V2 is the successor of the bestseller Fatshark Dominator V1.
It was developed especially for FPV flying and is therefore the ideal glasses for this area. All necessary components are in one unit, which is quite practical.
Design and construction make a very high-quality and robust impression. Outdoor use is no problem, the FPV glasses also have a safe shielding against blinding sunlight.
With a field of view of 32 degrees is quite high, which creates a pretty realistic flight experience and is hardly comparable to many other models. It also has a resolution of 600 x 480 pixels, making it ideal for FPV racing drones.
#3: Fatshark Dominator HD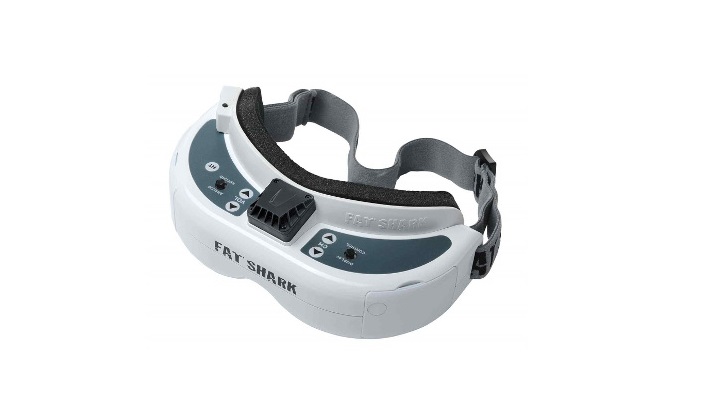 The special thing about the Fatshark Dominator FPV glasses, is the HD resolution. The actual HD quality starts at 1,280 x 720 pixels, the Fatshark Dominator HD has only 800 x 600 pixels.
The HD in the model name stands for High Definition. It has a field of view of 45 degrees and weighs just 200g.
However, if your drone does not have an HDMI port / HDMI out interface, we recommend the smaller brother Fatshark Dominator v2.
What do I need to use FPV glasses?
First of all we recommend to use FPV glasses only if the drone has a sophisticated gimbal system. Because with gusts of wind, jerky movements or vibrations, it can happen that the camera image is so blurred that you lose your orientation.
The quadrocopter should also have an integrated multi-axis stabilization system. Especially droning beginners should pay attention to this and start with a multicopter, which can be easily controlled.
To install a system you need the following elements:
Video glasses
5,8 Ghz transmitter
5.8 Ghz receiver
CMOS camera (alternatively CCD camera)
FPV camera (Full HD)
Cable from receiver to video glasses
Headtracking (Not absolutely necessary)
The systems offered are either complete packages or FPV goggles for specific models, which should make the setup process very easy.
This means that the DJI Goggles can be used for almost all DJI drones and the installation is quite simple.
Differences of the FPV goggle models
Depending on the price and age of the model, it brings different characteristics, advantages and disadvantages. We have summarized the most important features for you:
Headtracking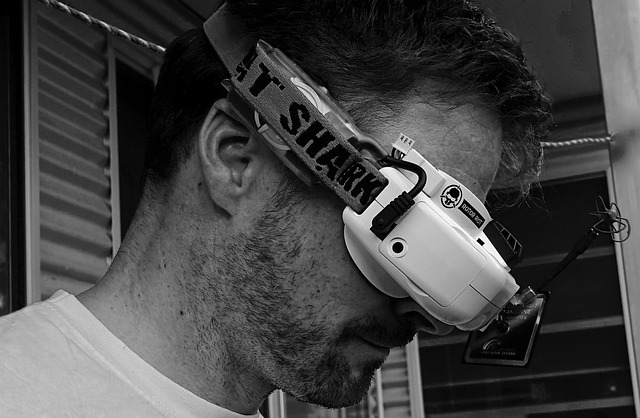 During headtracking the FPV goggles record the head movements and send position and angle in space to the drone. The drone aligns the camera according to your head movements. This allows an even more realistic flight experience.
We recommend such FPV glasses only for advanced pilots. Headtracking is very popular and very helpful for racing drones, but you need a lot of practice to keep the copter in the air at the same time if it has no stabilizing system.
Field of view (FOV)
The field of vision of video glasses is one of the most important factors when buying. In the technical terminology it is called FOV, which means "Field of View". This refers to the angle you can see with the help of the glasses.
As a rule, FPV goggles with a very wide field of view have a greater blurred image at the edges than goggles with a smaller FOV.
How much the blur is important, however, depends on the FPV goggles and its quality. Usually a higher price in this segment also reflects a higher quality of workmanship and image sharpness. However, it also depends on the resolution of the built-in camera drone.
Common FOV measurements for FPV glasses are an angle between 25 and 45 degrees, a 4:3 or 16:9 aspect ratio and no wide angle, because it would only irritate the pilot when flying with FPV glasses.
Eye distance
With the eye distance you can determine how far the image in the glasses is from your eyes. This will focus the image. Not all FPV glasses have this function, but it is very useful.
Resolution and image quality

The sharper the transmitted image, the better. However, a higher resolution brings a problem with it: The amount of data which must be transferred from the copter to the video glasses.
With larger amounts of data, the probability is higher that an image error or a short interruption will creep in due to the transmission (input lag). This could probably result in a complete loss of control and the crash of the drone.
Many FPV goggles in the upper price segment do not have full HD resolution. Therefore they have a lower pixel number than high quality Virtual Reality video glasses, but are also intended for a different purpose.
The resolution of your FPV glasses should be determined by what the video glasses are used for. For racing drones that fly up to 120 kilometers per hour or even faster, a full HD resolution is not very good.
Setting options
Here you are with a FPV glasses from the lower price segment unfortunately very quickly at the end. However, with high quality video glasses, some things can be customized, which can be a big advantage.
Expensive goggles can be perfectly adjusted to your head by mechanical devices. This makes wearing them much more comfortable and the flight experience even more realistic.
If you need glasses in everyday life, there is the possibility to have so-called dioptrin compensating lenses made and to insert them into high-quality FPV glasses.
The quality of the optical components is also reflected in the material. In good video glasses these elements are made of glass and not of plastic.
Buy FPV glasses
We recommend that you buy from an online shop of your choice. Amazon, for example, is quite safe and has a simple system for returning items if you are not satisfied with your glasses.
Otherwise we advise you not to order abroad, but to order from a German shop. So you are legally on the safe side. Not every online shop has such a wide range of FPV glasses that there is a suitable one for you.
What does the drone regulation say about FPV glasses?
When using FPV glasses, you should consider some legal things. Especially since the new drone regulation came into force in October 2017!
This stipulates that a continuous visual contact to the copter must be available! Unfortunately, this is not the case when flying with FPV glasses and therefore a second person must always be present to keep an eye on the drone and keep the drone pilot informed about possible obstacles or other incidents.
If damage is caused by the drone during a flight with FPV goggles, you must be able to prove a second person, otherwise your drone liability might not pay for the damage.
It makes sense to have a teacher-student control system, with which the second person can intervene in an emergency.