In this article we compare the Xiaomi X8 SE drones from Fimi and the Mavic Mini from DJI.
We will have a look at the equipment, camera, flight time and range, app and flight modes as well as the battery and the price-performance ratio.
Both drones are foldable drones, which are equipped with a good camera and all kinds of sensors. The main difference between both drones is their size and weight.
Find out what the two differ in detail and which drone is best suited for you in our comparison.
Scope of delivery and accessories for Mavic Mini and Xiaomi X8
Both drones come in an elegant white package. The Xiaomi X8 does not have many accessories. The FIMI scope of delivery includes:
the drone..
a remote control,
Cable for connection to the smartphone, three pieces
six rotors (two reserve)
Charging cable and battery (4,500 mAh)
Manual in English language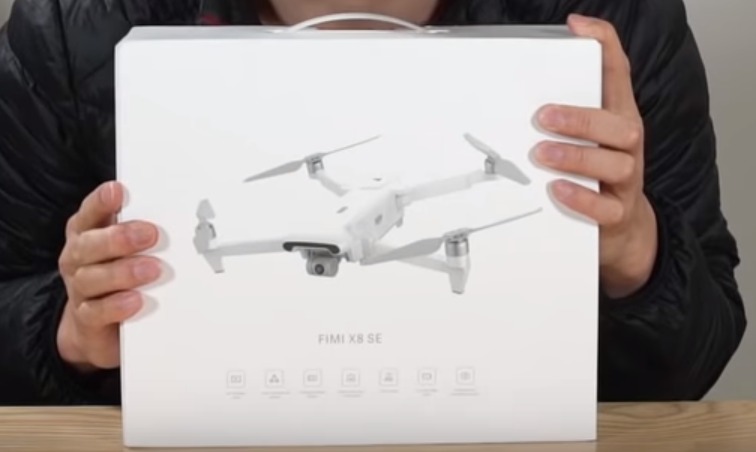 At first this is not very much and if you want more, you have to buy the accessories. A bag and two more spare rotors would have been desirable, but even the Mavic Mini doesn't offer much more in the standard version:
DJI Mavic Mini Drone
Remote control
Battery (2400mAh)
Charger cable
once spare propeller complete
Screwdriver
Propeller protection
Cable for connection to the smartphone
Manual in English language
If you need more accessories such as a spare battery, you have to buy them separately from FIMI. DJI on the other hand offers the Fly-More Combo Package for an extra charge of almost 100 Euro.
The Fly-More package from DJI contains:
one pocket
Spare cable
360° drone protection
two sets of spare propellers
two additional batteries, two extra USB cables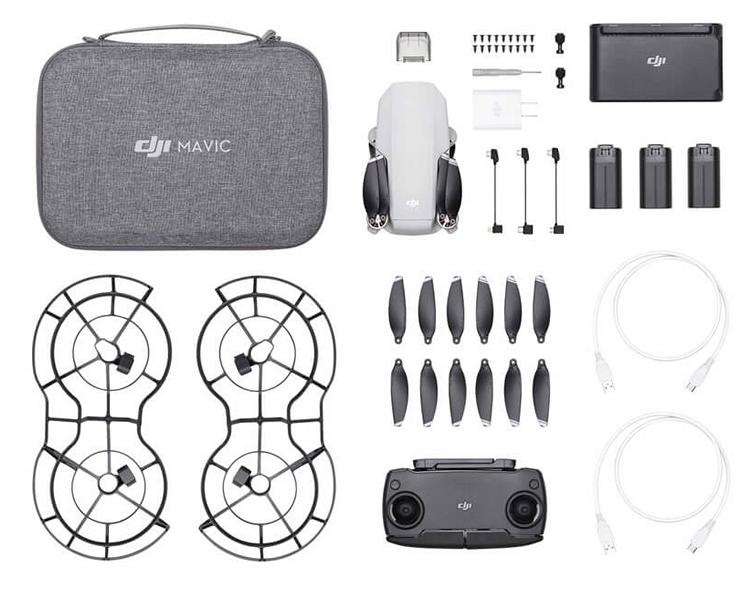 This is a pretty good deal, especially the two batteries at this price are more than okay.
Also at FIMI there are more accessories available, unfortunately there is no similar offer as the Fly-More package from DJI:
waterproof bag (30,- Euro)
two sets of spare propellers (15,- Euro)
Signal amplifier antenna (11,- Euro)
"Extended-Landing-Gear", chassis, extended leg, holder for protectors (12,- Euro)
Protectors (5-15 Euro)
Spare battery (80,- Euro)
Address engraving (5,- Euro)
The prices are from Amazon, there are different dealers. All accessories are specially designed for the FIMI X8. But there are also universal accessories which are compatible with this drone.
Equipment and technical specifications of the drones
DJI and FIMI did not skimp on the equipment. But they have not spared on top models like a DJI Mavic 2 Pro. In the following table you can see the technical specifications of both drones
Modell
DJI Mavic Mini
Xiaomi Fimi X8 SE
Sensorik
Optical Flow, Ultraschall, Barometer
Optical Flow, Ultraschall,
Barometer
Positionierung
GPS/GLONASS
GPS/GLONASS
Höchstgeschwindigkeit
47 Km/h, 29 Km/h oder 14 Km/h
21 Km/h oder 64 Km/h
Größe
140×82×57 mm (L×B×H) gefaltet
245×290×57 mm (L×B×H) mit Propeller
204 × 106 × 72 mm (L×B×H)
gefaltet
204 × 310 x 72mm (L×B×H)
mit Propeller
Gewicht
249 Gramm
790 Gramm
Kennzeichnungspflicht
keine Plakette nötig
Haftpflicht
Plakette nötig und Haftpflicht
Reale Flugzeit
27 - 28 Minuten
27 - 29 Minuten
Kontrollmodi
Gesten
Mobil (Smartphone)
Fernsteuerung
Gesten
Mobil (Smartphone)
Fernsteuerung
FPV
Frequenz
2,4 GHz und 5,8 GHz
5,8 Ghz
Sendeleistung
18 dBm bei 2,4 GHz
14 dBm bei 5,8 Ghz
14 dBm bei 5,8 Ghz
Reichweite
2000 Meter, bei 2,4 GHz
5000 Meter, 5,8 Ghz
Preis
399,95 Euro
499,95 Euro mit Fly-More Combo
400,- bis 450,- Euro
You can see here that the Mavic Mini Drone is a lightweight and the Xiaomi X8 SE can't keep up. Also in terms of compactness, the Mavic Mini leaves the Xiaomi behind.
The size of the Mavic Mini when folded is hard to beat. DJI is also not to be begged when it comes to weight, as the Mavic Mini weighs just 249 grams and is therefore not subject to labeling.
Otherwise, there are not too many differences between the two models at this point. But the Mavic Mini lives up to its name: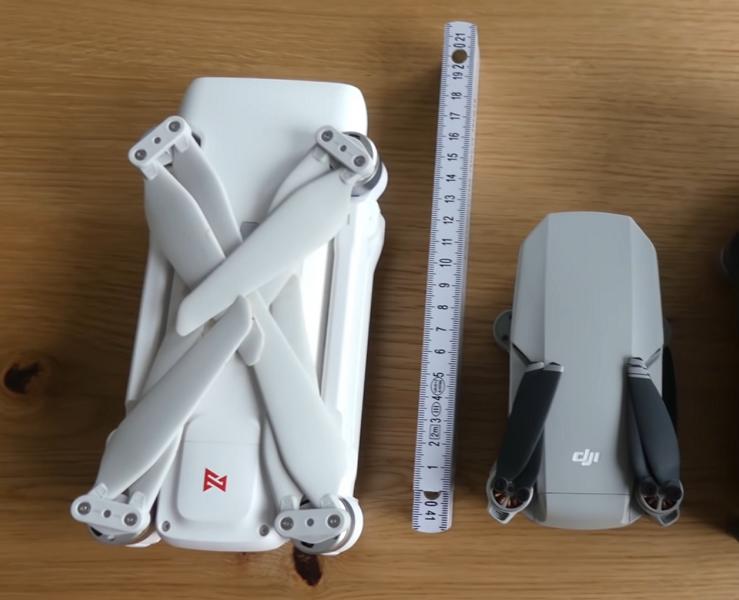 The camera of the DJI Mavic Mini Xiaomi Fimi X8 SE
Neither manufacturer has made any savings with the camera either. However, the Xiaomi X8 SE is one step ahead in terms of image and video quality. Because Fimi has equipped the Xiaomi drone with a 4K camera. The camera records the images in 3840×2160 pixels and can shoot at 30, 25 or 24 frames per second.
Further resolutions in favour of higher frame rates can also be set. The maximum frame rate is enclosed:
2.7K: 60 FPS
1080p: 120FPS
720p: 240FPS
The bit rate at which the recording is made is also variable and is a maximum of 100 Mbit/s. Since the camera can record 120 pictures in Full HD per second, it can even be used for slow-motion recordings.
Apart from that, this camera will also meet the demands of amateur photographers. Only the small sensor with little light incidence clouds the image quality a little bit, but only in bad light conditions.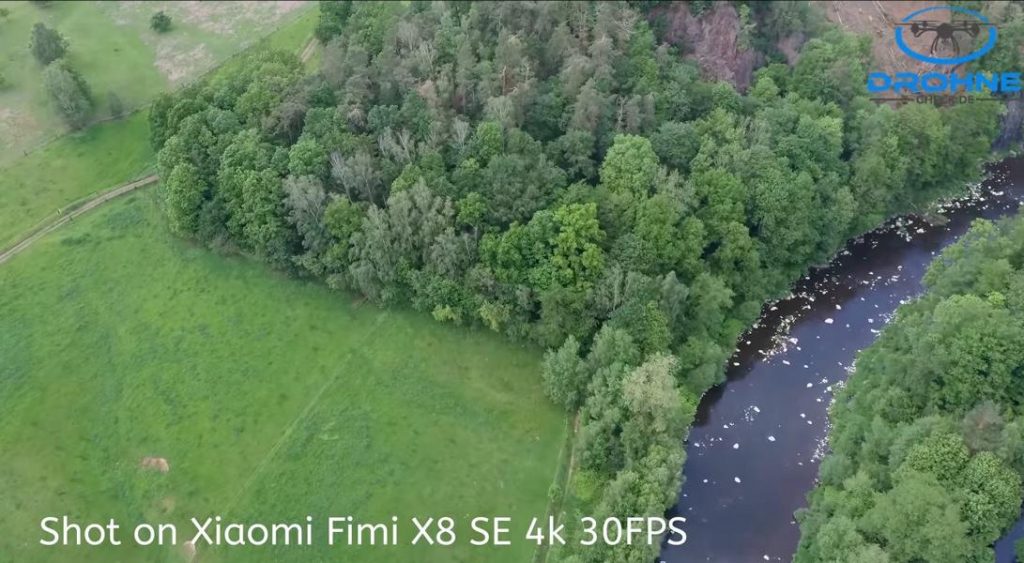 In contrast, the Mavic Mini has a maximum resolution of 2.7K or 2720×1530 pixels at 25 or 30 frames per second. In Full HD resolution, the frame rate is up to 60 Fps, fully meeting the needs of social media.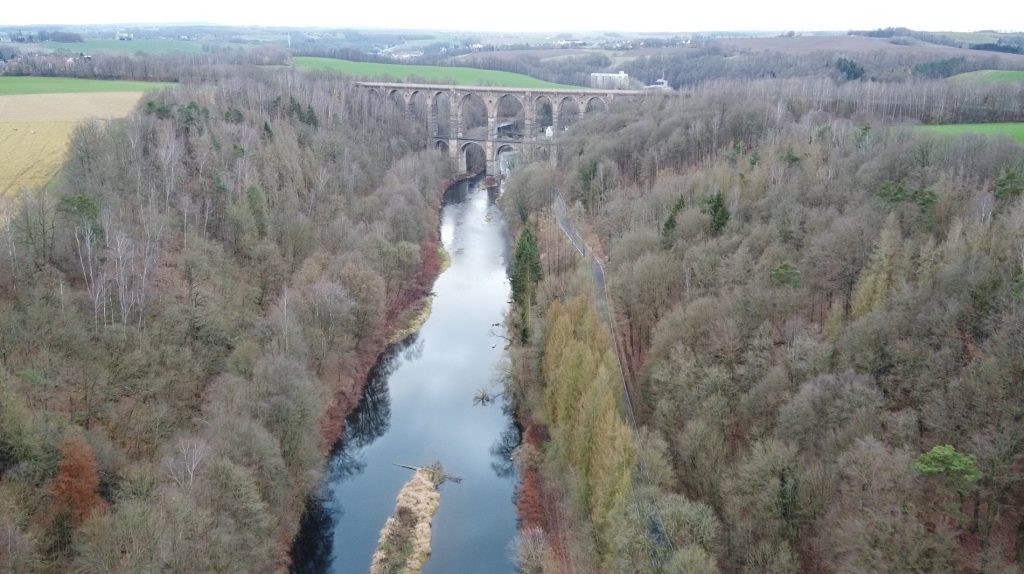 The maximum bitrate of the Mavic Mini is only 40 Mbps. So the camera is by no means a bad one, but the Xiaomi Fimi X8 SE is one step ahead of the Mavic Mini here.
We have also compiled a table of both camera specifications to provide a better overview:
Modell
DJI Mavic Mini
Xiaomi Fimi X8 SE
Kamerasensor/Sensorgröße
Sony 1/2,3 Zoll
Sony 1/2,3 Zoll
Videoauflösung
2720x1530/30p
1920x1080/60p
3840×2160/25, 30p
2720×1530/60p
1920×1080/120p
1280×720/200p
Video Codec
H.264 Codec
H.264 Codec
Video Bitrate
40Mbit/s
100Mbit/s
Bildauflösung
4K/12 Megapixel
4K/12 Megapixel
Bildkomprimierung
JPEG
JPEG, DNG-RAW
Bildstabilisierung
3-Achsen-Gimbal
3-Achsen-Gimbal
Objektiv
f/2,8 24mm, 83°
f/2,2 35mm, 78,8°
Speichermedium
Micro-SD Karte, 256 Gb max.
Micro-SD Karte, 64Gb max.
So if you need a very good camera with RAW storage format and also 4K recording, you won't be satisfied with the Mavic Mini at this point and should rather go for the Xiaomi Fimi X8 SE or other 4K drones, such as the DJI Mavic Air or a Hubsan Zino 2 drone.
For both drones there is also a detailed test video from drohne-check.de. You can watch it on our YouTube channel or here as embedded video in the test report:
App and intelligent flight modes of drones
Both drones of course have an app on board. The Mavic Mini is the DJI Fly app. The Fly App is a tidy and clear app with many beginner friendly settings.
The operation is intuitive and one quickly finds one's way around. You can find the links to the app in the DJI manual. The Xiaomi X8 SE drone is handled in the same way and you can find the links to the drone in the manual.
The apps differ mainly in their usability and clarity. The DJI Fly app is, as already mentioned, very beginner-friendly. While Fimi lists many settings at one go.
However, the two apps do not differ in their functional range. Both drones have various intelligent flight modes on board:
Waypoint Flight: The drone automatically flies to predetermined waypoints, taking pictures and shooting videos.
Dronie: The drone flies away from the starting point and moves upwards. Nice perspective for group photos.
Smart Track: Using the Smart Track function, a drone can track a moving object, such as a cyclist. This works very well with both models and the drone never loses sight of the target, even when changing direction quickly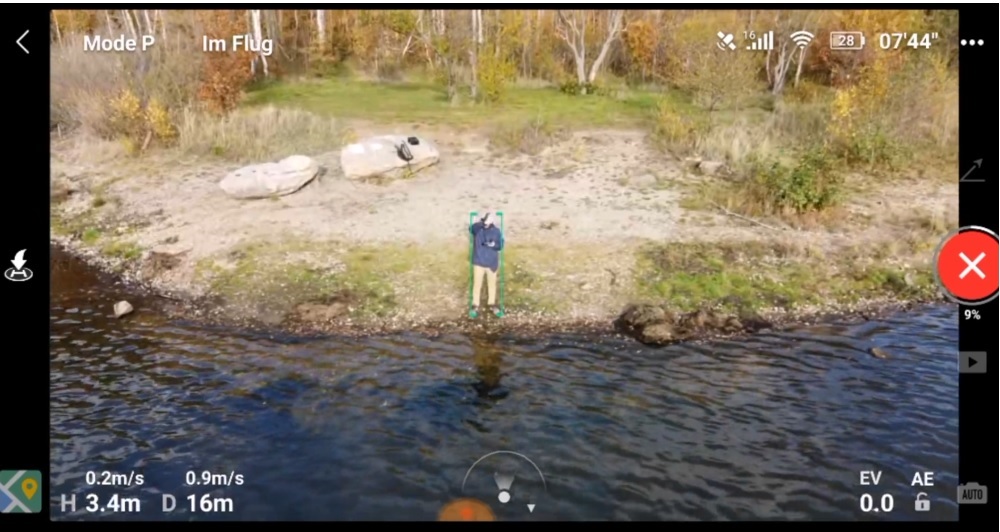 Orbit: The drone orbits its point of origin or an object which has been detected by the tracking function and draws a circle at a defined height.
Helix/Spiral: The Helix mode (DJI) or Spiral mode (Fimi) is a combination of Orbit and Dronie. The drone moves slowly upwards from the starting point and draws steady circles.
Rocket Mode: In this mode, the camera of the drone takes a starting point into focus and shoots upwards at an angle of 90 degrees while keeping this starting point in focus.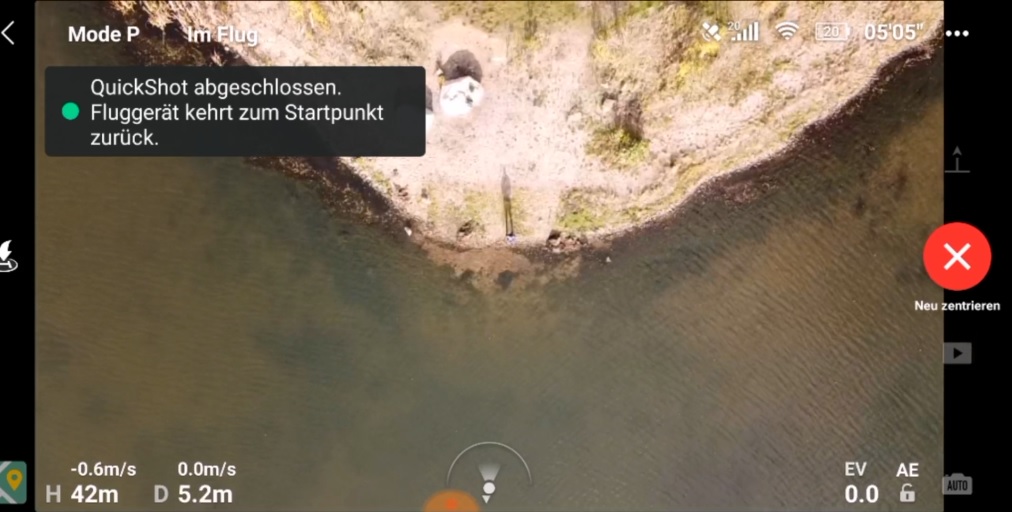 Cine mode: The acceleration speed is reduced in this mode so that movements in the drones are not too jerky. Also the deceleration is softer.
Furthermore, the Xiaomi X8 SE has a few flight modes which are not known to the Mavic Mini. These include Course Lock, Tripod, Tap Fly and the SAR mode.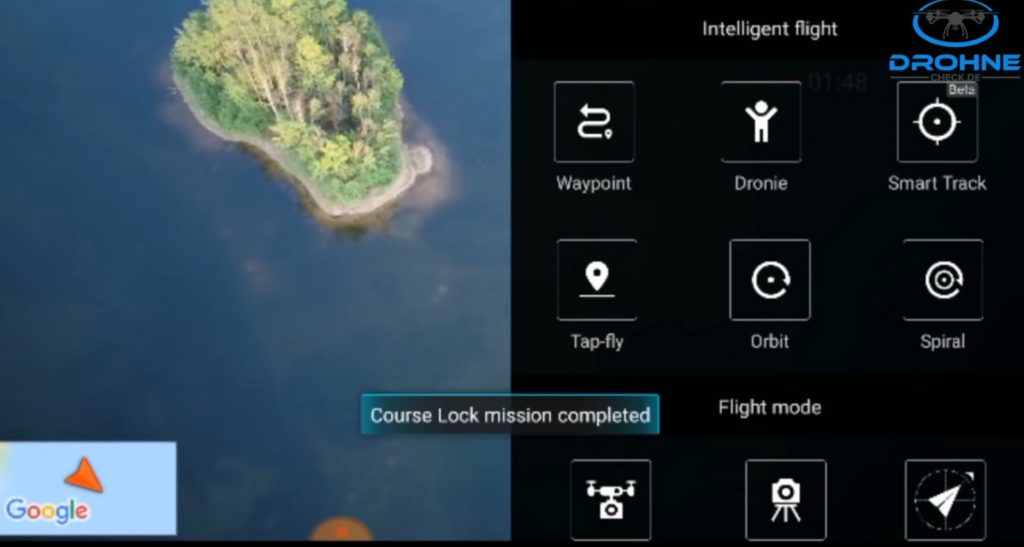 Course Lock: The drone flies in one direction, the drone is set to headless mode. So the drone stays in a certain direction even if you turn your head.
Tripod: Tripod mode, the drone moves very slowly and remains still in the air.
Tap Fly: This allows the drone to automatically navigate to this position with just one tap on the map
Fixed-Wing: The Fixed-Wing mode causes the camera to lie down in the curve, thus simulating a flight feeling and image like a fixed wing aircraft
SAR mode: In SAR mode, the coordinates of the drone can be seen in real time during the flight. These are also shown in the video recording.
Comparison of flight time, battery and range
In flight time and range, Xiaomi Fimi X8 SE and the DJI Mavic Mini are very similar. Both have not quite half an hour flying time under real conditions.
The DJI Mavic Mini's maximum flight time in practical tests was 28 minutes, while the Xiaomi Fimi X8 SE reached 29 minutes. Both values are only slightly below the flight times specified by the manufacturer and are therefore satisfactory.
In terms of range, the Xiaomi Fimi X8 SE invites you to long-distance flights.
Of course the maximum range in European delivery is limited to 1000 meters, but this can be changed. The Xiaomi Fimi X8 SE can achieve up to 5000 meters control range and image transmission.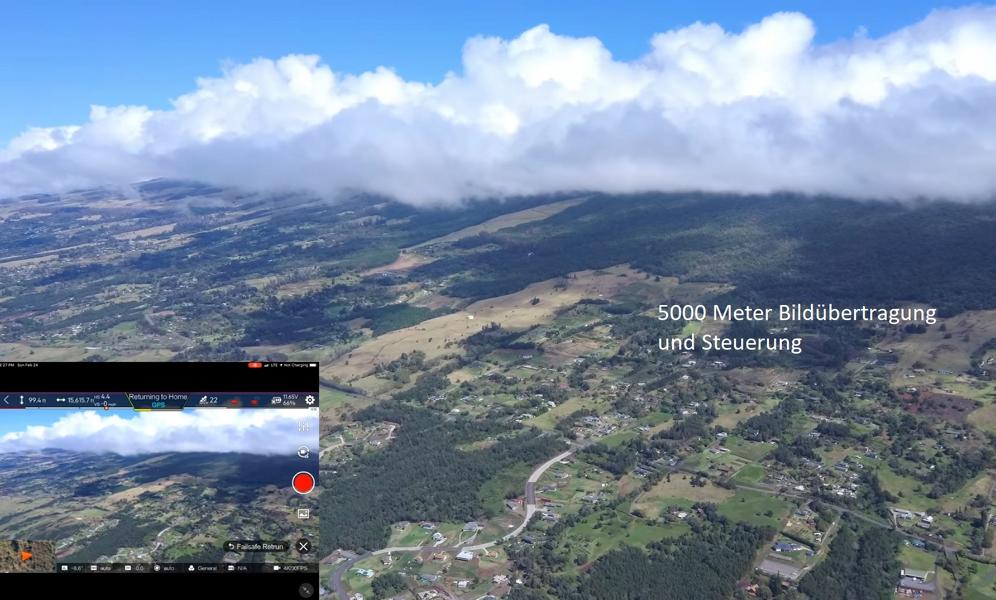 The Mavic Mini can't compete with that. The DJI model only has a range of 2000 meters.
We couldn't test this personally because we follow the legal regulations in Germany and only have to fly within visual range and at a maximum altitude of 100 meters.
DJI scores with a short charging time of just 2.5 hours for the small 2,400 mAh battery. The larger 4,500 mAh of the Fimi drone fully charges in about three to four hours.
The reason for the larger battery with the same flight time is the high weight of almost 800 grams of the Xiaomi Fimi X8 SE drone.
Conclusion on both models
We open the conclusion with some advantages and disadvantages of the two drones
DJI Mavic Mini
Xiaomi Fimi X8 SE
Vorteile
Hohe Flugzeit

Intuitive Bedienung und eine neue App, ideal für Einsteiger

Keine Kennzeichnungspflicht

Ausgereiftes Gimbalsystem

Gute Flugeigenschaften, vollautomatische Ausbalancierung

Perfekt für VLOGs geeignet

faltbares Design

verschiedenste Flugmodi

FPV Modus möglich
Hohe Flugzeit

Ausgereiftes Gimbalsystem

Mehr Flugmodi als die Mavic Mini

Gute Flugeigenschaften, vollautmatische Ausbalancierung

Sehr gute Kamera

Umfangreiche App
Nachteile
Hindernisserkennung fehlt

Kein Micro USB Anschluss

Keine IPX Zertifizierung, keinerlei Schutz vor Wasser

Keine 4K Kamera
Keine Hindernisserkennung

Hohes Gewicht

Weniger intuitive Bedienung der App als bei der DJI-Fly App
Both drones are very good models. As already mentioned, the Mavic Mini has to be satisfied with 2.7K video resolution. So if you need a 4K camera, you should rather go for the Xiaomi X8 SE or other drones with a 4K camera and good equipment.
In addition, the Xiaomi X8 SE offers more extensive setting options in the app and has a much higher range. The latter is less important for us due to the legal regulations in Germany. Especially since the Mavic Mini with 2000 meters also has no small range.
Otherwise, the two drones differ from each other in a few points. The last big difference is of course the size and the weight. Since the model from DJI weighs only 249 grams, you don't need a sticker, but only a liability insurance for the drone. The Xiaomi X8 SE needs both.
In addition, the DJI Mavic Mini is slightly cheaper, even with the Fly-More Combo package. For beginners, the DJI Mavic Mini is definitely one of the best drones on the market today.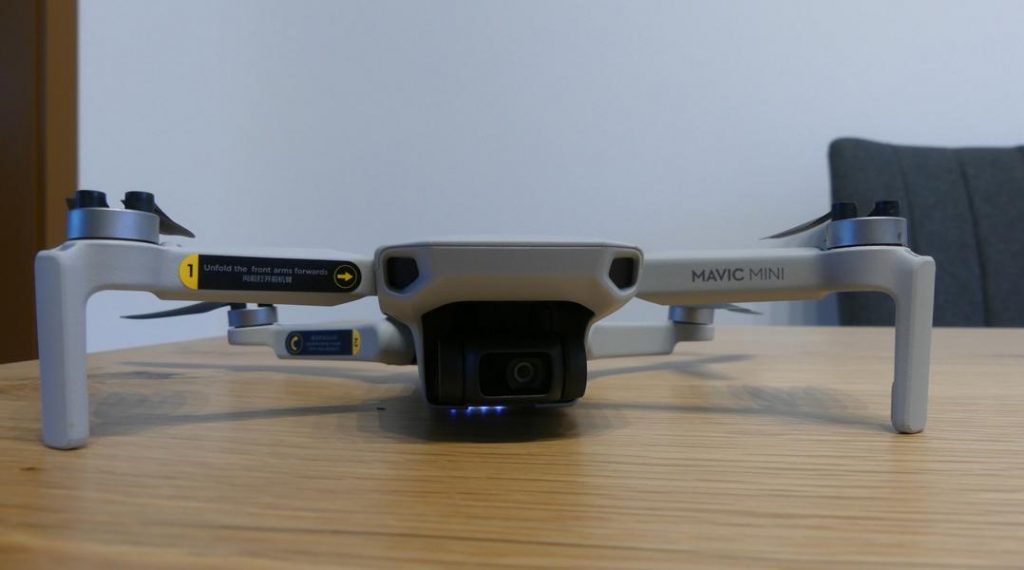 For those who need a little more functionality and a better camera, the Xiaomi X8 SE is a good choice. This drone also has a good price/performance ratio.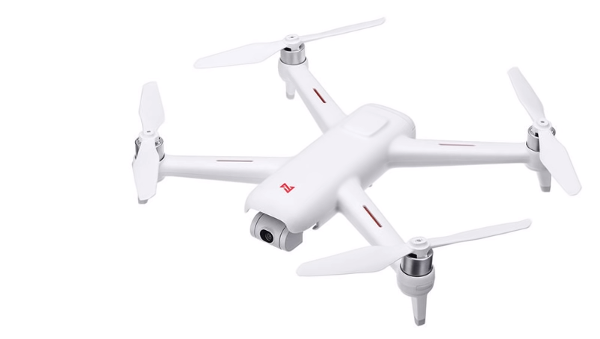 That was it with our comparison of the two models. If you have decided for one of the two you can buy them here:
Click here for the DJI Mavic Mini!
Click here to see the Xiaomi Fimi X8 SE!
If both drones don't suit you, you can watch our other reviews: