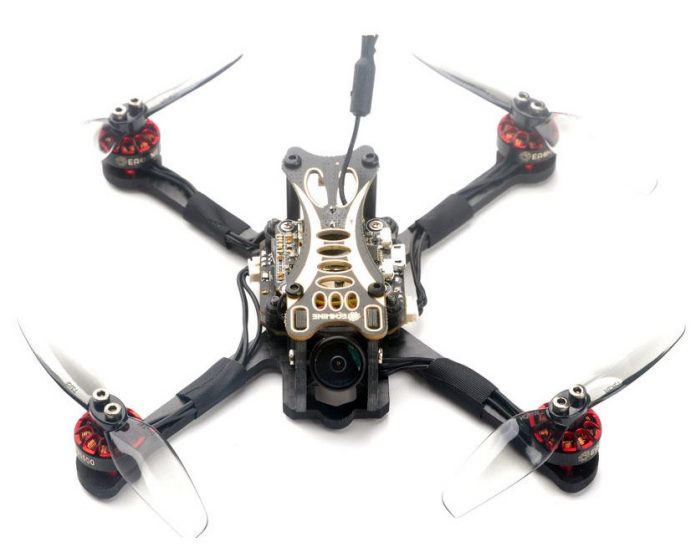 | | |
| --- | --- |
| Spaßfaktor | |
| Features | |
| Materialqualität | |
| Flugverhalten | |
| Preis-Leistung | |
| Average 0/5 | |
This drone is new on the market and is a Ready-To-Fly FPV-Kit from Eachine. Eachine could convince us already in the past with very good, but inexpensive models. This includes the Eachine E58.
>> Eachine Novice III kaufen* <<
Scope of delivery and technical specifications of the drone
In the scope of supply are all accessories which are needed for flying with a FPV drone. The drone arrives safely packed with us. The scope of delivery includes:
Eachine Novice III drone
F4 RC remote control
2x battery 11.1 Volt 450 mAh
Charging station "2-4S Balance"
Power supply unit and power plug
Eachine EV800 FPV-Glasses
WLAN antenna for FPV goggles
Battery
4 propellers
Installation tool
Bag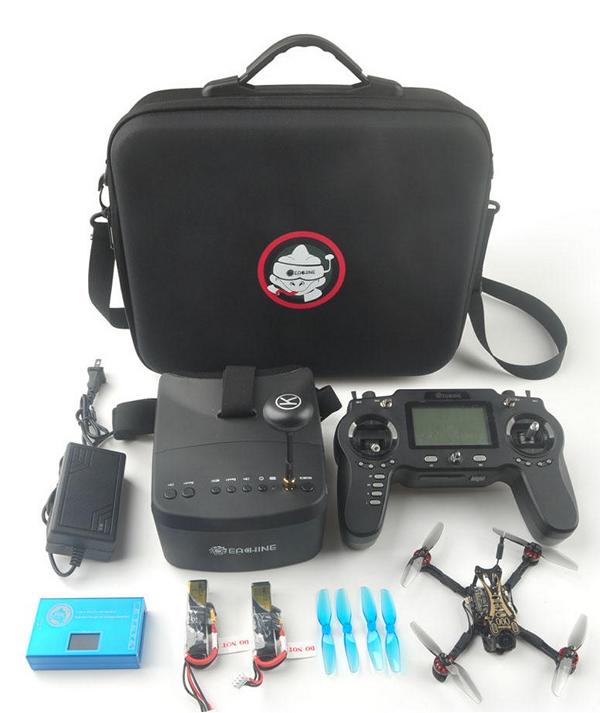 With the Fly-More package from Eachine, there are also four additional batteries for the drone, increasing the effective flight time to just under one hour. The Fly-More package has an additional charge of approx. 25,- Euro.
Therefore, we recommend that anyone who is thinking about buying this drone also buy the Fly-More package. Because a flight time of 15 – 20 minutes with the two batteries in the Ready-To-Fly (RTF) package is not very satisfying.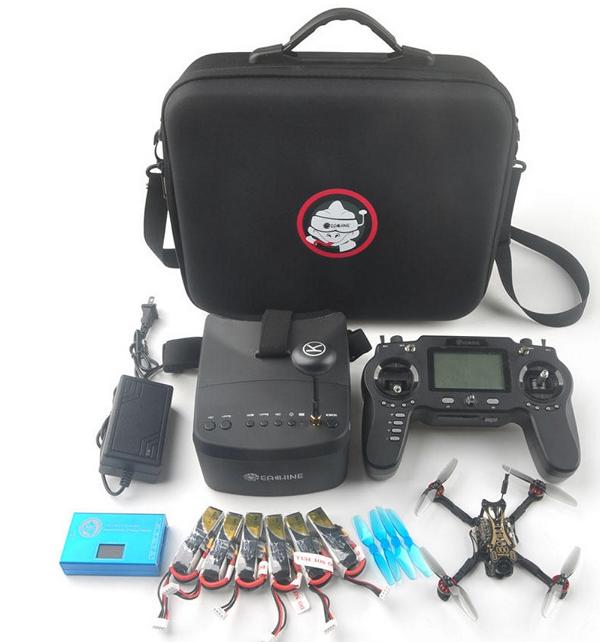 However, the mini-FPV drone does not carry heavier batteries due to its design. According to the manufacturer, however, you can use any battery with a suitable connector (XT30). However, we recommend to pay attention to the weight of the battery, otherwise the flight stability of the copter suffers.
This is a very good package, but we advise beginner pilots not to buy this drone. Unless you are specifically interested in FPV.
Flying exclusively in FPV mode requires some practice and experience in handling drones. The FPV goggles are not a top model but they are useful. Especially for advanced pilots who want to try out FPV mode this drone is worth a look.
>> Eachine Novice III kaufen* <<
The technical specifications at a glance:
Transmission resolution: 1280*720
Screen resolution of the FPV glasses: 800*480
1/3 inch CMOS sensor f/2.1
Brightness of FPV glasses: 600cd/m2 LED backlight
140° viewing angle, horizontal 120° , vertical
Flight control board: MPU-6000
Motor: EX1203
8 to 10 minutes flight time
one hour charging time
3000mAh Lithium Ion battery
WLAN frequency: 2.4GHz with eight channels and 5.8 GHz with 40 channels
Range: 1200 meters (control), 700 meters HD live broadcast
maximum speed: 30 Km/h
Weight: 110 grams
The FPV glasses and remote control of Eachine Novice III
Since it is a FPV-Racing model, the FPV goggles play an essential role in our test. The FPV goggles is a solid model, which has also proven itself in other drones.
However, the resolution of the screen is a bit low at 800*480 and the picture just doesn't look good during the FPV flight. That doesn't bother me, because it's not a camera drone, which should take great pictures.
It is also possible to save the images using an SD card in the glasses. The quality of the saved images is 1280*720 and the bit rate of these images is also higher, so the saved images have a much higher quality than the FPV flight on the glasses.
However, the camera should not be in focus. We think it's good that Eachine has chosen a slightly larger lens with f/2.1. So the pictures look a bit overexposed, but even flying in low light conditions is no problem.
Only at night the Eachine Novice III will fail, because this model does not have a LED headlight and it is not allowed in Germany anyway.
The goggles are connected to the drone via 5.8 GHz WLAN connection. The controller offers a choice of 40 channels, whereby one of the channels is automatically selected in the factory settings.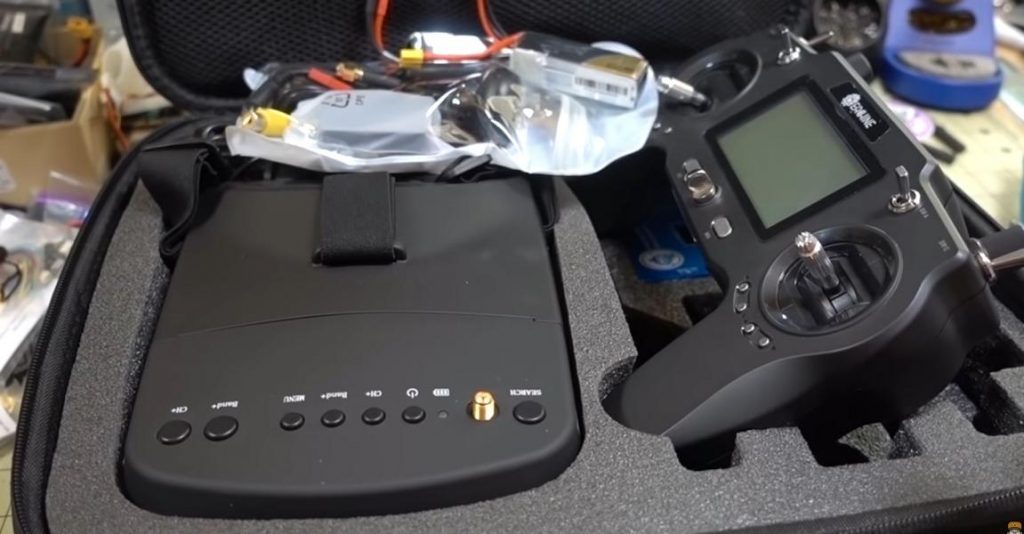 Also a WLAN antenna is included. The antenna is attached to the glasses. For this purpose a SMA coupling is installed and the antenna can be simply screwed in.
The FPV goggles also have an internal 2,000 mAh battery. With this it is possible to operate the goggles and fly a drone for about one hour.
The lighting of the display of the FPV glasses is very well done. Even during the day in the sun the glasses do a good job and you can see everything well.
>> Eachine Novice III kaufen* <<
The flight behaviour of the drone in test
After we have put the drone into operation, which means that all batteries are fully charged and the drone is coupled with the remote control and the FPV goggles, we can start with our practical test.
The drone has no GPS system on board. That's why we have to pay special attention to where we are. There is no Return-To-Home function because of the missing GPS module.
During take-off, it is noticeable that the drone is surprisingly quiet, even though the whirring of the propellers is quite high due to their small size. The manufacturer achieves this by using brushless motors.
The drone stands very well in the air, even without automatic balancing the flight behaviour is convincing.
Of course the drone does not fly as stable as a DJI Mavic Mini, but that is not the claim of a racing drone either. Next we want to take a look at what the model is capable of.
The drone controls itself very easily and the stability is as said. After a short acclimatization we fly already one or the other maneuvers and make a somersault in the air.
Advanced pilots who are interested in FPV flying will definitely get their money's worth here.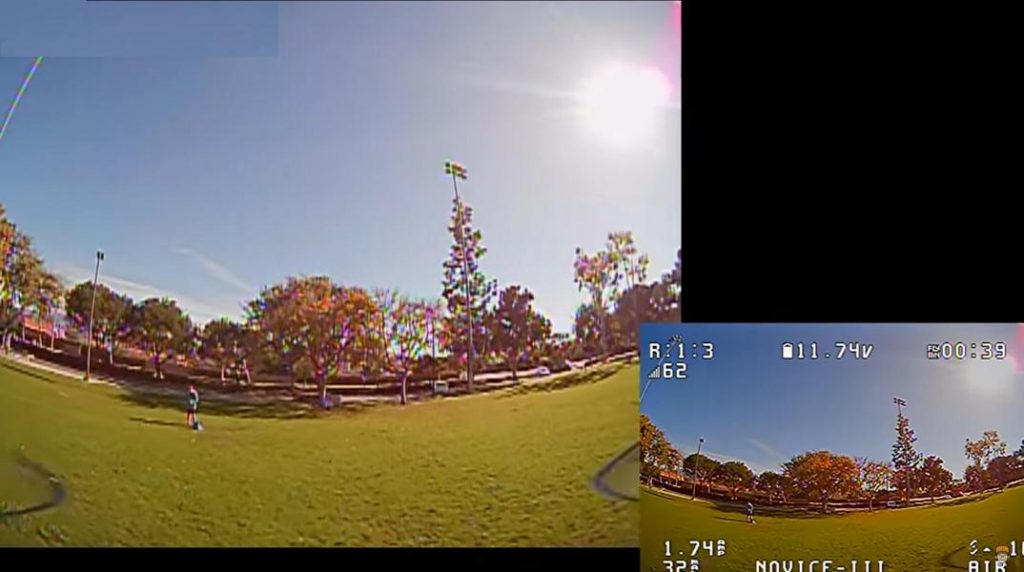 Only in strong winds can turbulence occur during the flight. You must also note that the Eachine Mini-FPV-Racing Drone is not waterproof. The circuit board and controls are exposed and therefore susceptible to even small amounts of water.
So you should only fly during the day and in dry weather. In our test the maximum speed of the drone was just under 115 km/h.
This is also a good value for a racing drone. Of course it can't compete with top models. On tournaments the drones reach 180Km/h and more.
>> Eachine Novice III kaufen* <<
Battery and range of the racing drone
The battery is a 450 mAh lithium ion battery with a range of 1000 meters. Here it is to be considered particularly with FPV models that one may fly in Germany only in sight range.
But with FPV models with glasses you don't notice that and move out of the field of view. In addition, a second person must always be on site, this is required by German laws.
The battery is sufficient for a flight time of eight to ten minutes. This is a solid value for a 450 mAh battery. The Fly-More-Combo package from Eachine also includes four additional batteries for a small additional charge.
Any battery with XT30 connection can also be used on the drone. However, it is important not to overload the drone, because a large battery is also heavy.
With battery the drone weighs only 110 grams.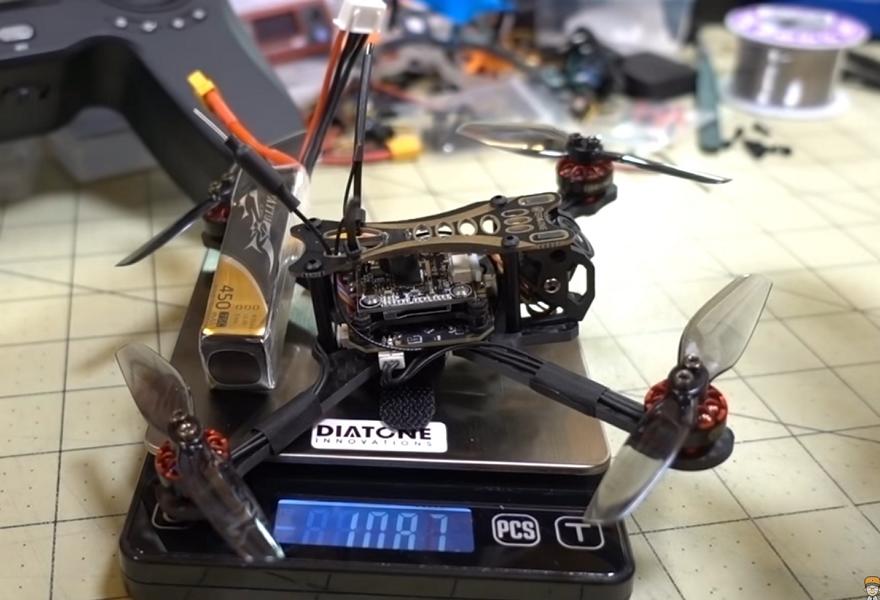 Conclusion on Eachine Novice III
Advantages:
Value for money
Modular design
good speed (115 Km/h)
good FPV goggles…
good flight time
Bag included in delivery
Cons:
…with a slightly lower resolution (800*480)
Not water protected
No GPS
SD card not included.
>> Eachine Novice III kaufen* <<
All in all, the Eachine Novice III drone is a very good choice for advanced pilots who want to enter the FPV Racing field.
The drone is also worth a look for beginners. We recommend absolute beginners, however, not with a FPV-Racing drone to enter but first learn to fly with a normal drone. For example, the Aldi drone from Maginon is very well suited for this.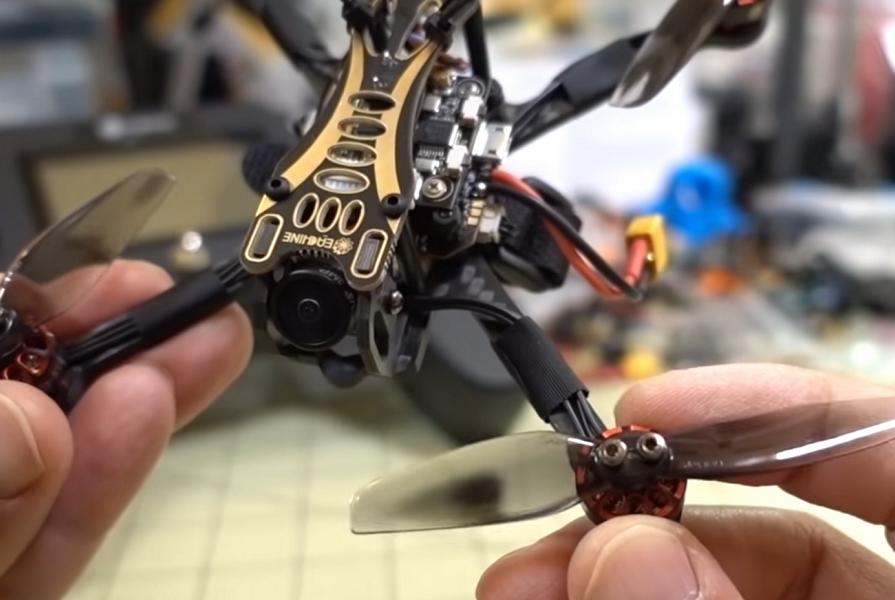 If you like the Eachine Novice III then you can buy it here:
>> Eachine Novice III kaufen* <<
Other FPV drones and goggles under test: