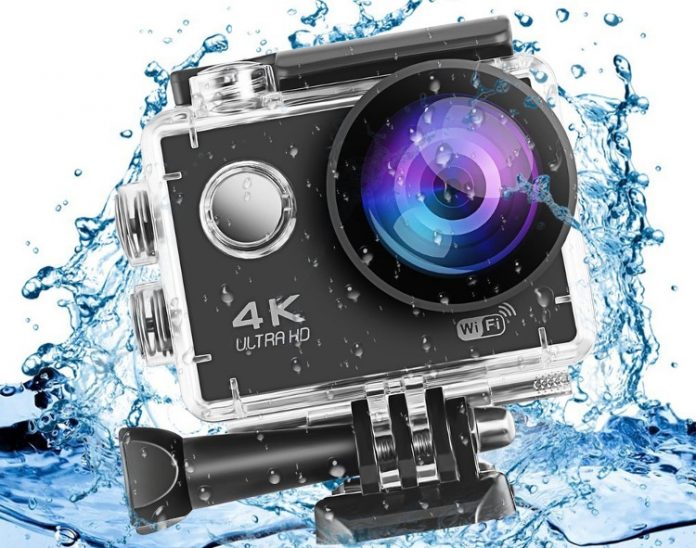 | | |
| --- | --- |
| Fotoqualität | |
| Videoqualität | |
| Material | |
| Zubehör | |
| Preis-Leistung | |
| Average 0/5 | |
Another action camera you should take a closer look at is the LESHP with a resolution of 4K and 1080P video recording.
It is ideal as a comprehensive sports camera for swimming, cycling and skiing. As a dashcam, however, it cannot be used as well.
In our opinion, you will get a lot for this price here. The photo and video recordings are good, the sound is fine and the scope of delivery is quite generous, because the package contains 28 accessories.
There is also a special feature that the action camera has WiFi. So you can connect the cam with your smartphone or tablet very well.
Of course, the Action Cam has a large screen on the back where you can view the photos and video recordings.
Many great extras like the 4x zoom, Wifi and a second battery complete the package.
Technical data and facts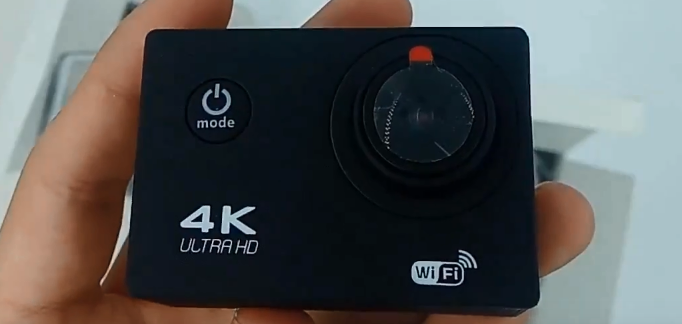 The wide angle of the camera should be at a maximum of 170 degrees. And the maximum resolution of the camera is 4K at 30 frames per second. The 2 inch display shows the images in real time and provides an authentic live view.
Optically it reminds us a little bit of the APEMAN Action Camera, both cameras are a little bit similar in design.
The LESHP action camera is by no means comparable to a GoPro Hero Cam and we recommend to check if this cam really suits you!
The action camera looks a bit similar to many other models, as the usual case is used here. On the back is the display with a size of about 2 inch.
For outdoor use, it makes sense to pack the camera into the waterproof housing, where it is optimally protected against shocks, dust and dirt.
The universal housing is waterproof up to a depth of 30 meters.
Click here to go to the shop where you can buy the action camera for a low price!
Camera and resolution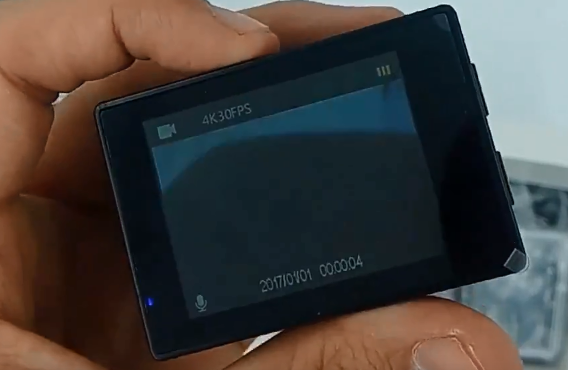 The LESHP action camera has a 16 MP photo sensor. You can make excellent photo and video recordings with this. Videos are usually recorded in 4K.
In the menu you can of course make different settings concerning the resolution.
It's amazing that you can get such a good picture from such a small camera. Even though you can choose between different resolution values, they all deliver pretty good pictures.
If you set a lower resolution or frame rate in the menu, the recording will be worse, but you can save battery capacity.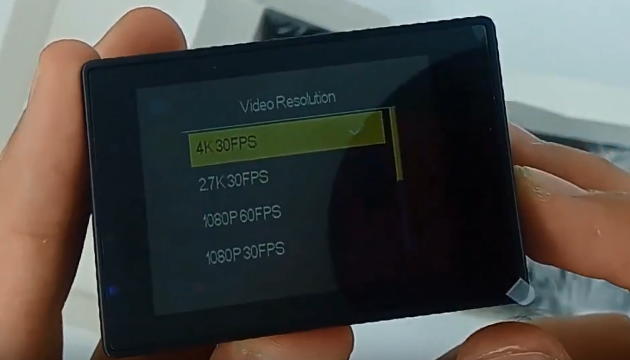 You can easily choose between the following resolution values in the action camera menu:
4K video in Ultra HD – up to 30 frames per second
2,7K resolution with 30 fps
1080P at 60 fps
720P resolution with up to 120 frames per second
When you take pictures with the LESHP action camera, they are stored on a Micro SD card, which you have to insert first. You have to buy this card separately and it must not exceed 64 GB.
Design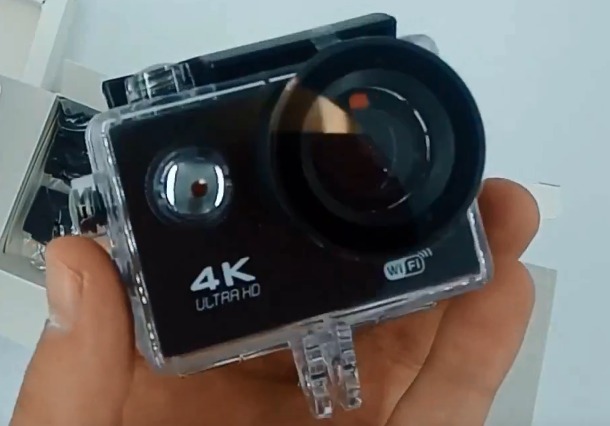 The look of the LESHP is the usual cam design in action cameras.
On the back is the display, which measures about 2 inches diagonally.
The included case is not only waterproof but also transparent. The three-button-control also works through the housing, because the buttons are waterproof, you don't have to be afraid of water entering the camera. The waterproof housing also has a mount underneath where you can attach various brackets.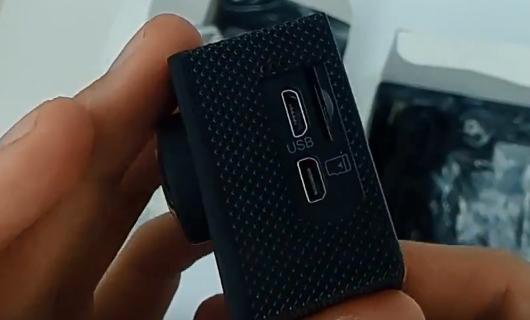 On the side there are different sockets for connections, such as a USB port. You can also connect your SD card here. However, you have to buy such a memory card first.
Battery and runtime
The scope of delivery includes 2 batteries with 1050 mAh each. Together they can supply the camera with power for 240 minutes.
In our opinion, a strong battery is very important to be able to evaluate an action camera positively.
The actual usage time in video mode also depends on the set frame rate and resolution. Because of course the action camera needs more battery capacity for a higher resolution. This also applies to the frame rate. So if you want the battery to last a long time, you need to set the lowest possible frame rate and resolution.
Menu navigation
The menu navigation is very simple with this camera model. All menu items are already clearly displayed and can be accessed directly via the convenient three-point control.
Here you can make various settings and set the camera to different modes.
For which applications is the camera best suited?
Because the housing is quite waterproof and there are a lot of accessories in the scope of delivery, you can use the action camera especially versatile in the outdoor area.
Especially often the LESHP Cam is used for diving, snorkeling, skiing, hiking and other adventure tours.
Advantages and disadvantages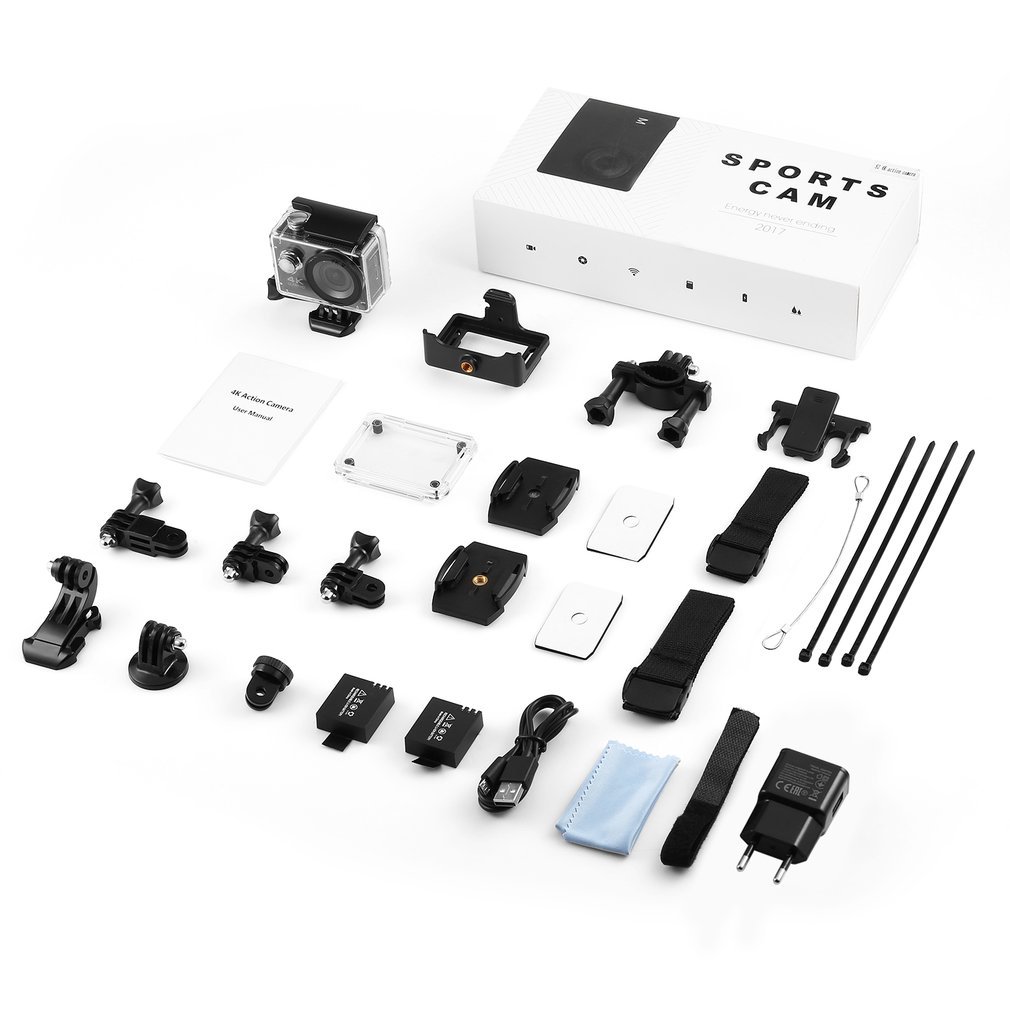 Advantages of the LESHP Cam:
Great action camera with a very good price/performance ratio
Extensive scope of delivery with a lot of accessories for a wide range of applications
2 batteries included for a total of 240 minutes of operation
4K video recording at a frame rate of 30 fps
170 degree wide angle lens
LCD screen for live view
4x digital zoom
Photos can be taken with a resolution up to 16 MP
Waterproof case waterproof up to 30 meters
Free XDV app for your smartphone or tablet
The app is suitable for both Android and iOS systems
Super price/performance ratio and therefore very suitable for beginners
Easy menu navigation and operation
The menu can also be switched to German
Cons:
No Micro SD card included – you have to buy one separately
Unfortunately the sound quality corresponds to the typical sound of action cameras
Recording quality gets slightly worse under unfavourable lighting conditions
Conclusion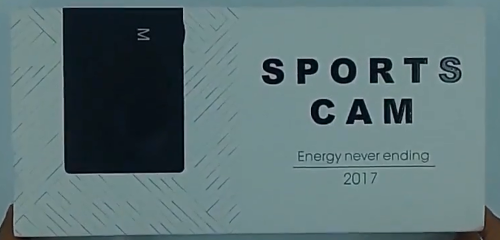 In our opinion the LESHP is clearly not comparable with a GoPro, because the price differences are much too big. However, the LESHP Action Cam can still be an inexpensive alternative if you look beyond a few disadvantages.
The sound could be a bit better and it also bothers us that the camera doesn't adapt so well in low light conditions and therefore the shots suffer a bit when it gets dim.
The camera will definitely survive the odd fall. If the Action Cam is inside the housing and you fall down, you should check it for cracks afterwards, as it might not be waterproof anymore!
Also the many accessories are a reason why we recommend the LESP action camera to everybody. Many elements and attachments are also suitable for other cameras.
Here on Amazon you can buy the LESHP very presiwert!
You can find more Actioncam tests here:
GoPro Hero 3 Action Cam
Go Pro Hero 4 Action Camera
Go Pro Hero 5
Sony Full HD Action Cam
Apeman Action Cam
Jeemak 4k Cam
SJX5000 Elite Camera
Yi 4k Plus
TecTecTec Action Camera