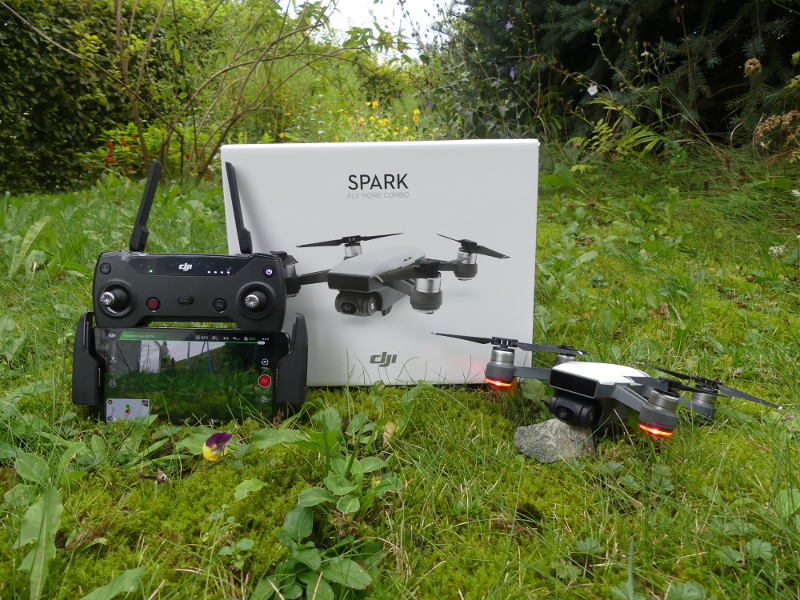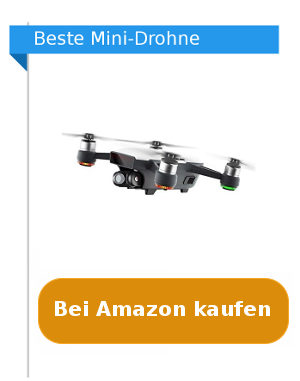 | | |
| --- | --- |
| Spaßfaktor | |
| Features | |
| Materialqualität | |
| Flugverhalten | |
| Preis-Leistung | |
| Average 0/5 | |
Stable flight characteristics, gesture control, high-quality material processing and an attractive design ensured that the DJI Spark scored particularly well in our test.
The Spark is by far the best mini drone we have tested so far.
And even though this drone requires a much larger budget than other drones of this size, it is really worth the money!
In the DJI Spark Test we explain in detail what it can do and what you should pay attention to:
DJI Spark: Features and innovations
For being such a small drone, the DJI Spark has a lot to offer.
New are for example some intelligent flight modes, which we didn't even know from other DJI models before.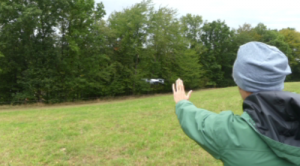 Like the DJI Mavic Pro, the mini drone has a sophisticated & reliable gesture control system that allows you to maneuver the Spark without remote control and shoot selfies.
If you want to fly in tight spaces, the Spark is perfect for that.
It features obstacle detection and thanks to the Vision Positioning System, it stands extremely safely in the air. In addition, 4 bumpers are included to protect the rotors.
If you are outdoors, you don't have to worry about more or less strong gusts of wind. In our test, the DJI Spark maintained its position even in gusts of up to about 40 kilometers per hour, even though it weighs only 300 grams.
The fact that the drone weighs only so little, despite the enormously high technical equipment is of course a clear advantage!
Your maximum speed is 50 kilometers per hour in sport mode. We think that's a very good top speed for such a small drone.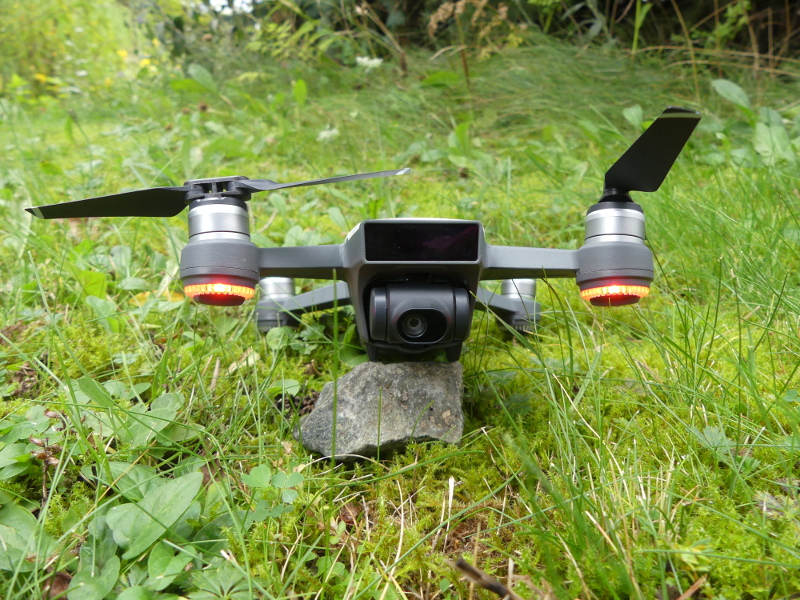 The safe flight characteristics, the high-quality camera combined with the intelligent flight modes make the DJI Spark the perfect drone for beginners as well as advanced pilots.
The DJI Spark can record videos with a resolution of 1920×1080p at 30 frames per second and photos with a maximum image size of 3968×2976 pixels. The camera's pan range is 90 degrees from horizontal to vertical field of view downwards. The mechanical gimbal system ensures shakeless and trouble-free photo & video recording.
The following is a brief overview of the latest features and other special features:
Gesture control
Vision positioning system
Obstacle detection
Shoots selfies
TapFly
ActiveTrack
QuickShot modes (Circle, Dronie, Helix, Rocket)
FPV flying is possible with FPV goggles (not included). DJI Google's FPV goggles are particularly suitable for this
Scope of delivery and material processing of the DJI Spark
We got ourselves the DJI Spark Fly More Combo version, which includes a total of 2 batteries, a handy travel bag and a multi charger with which you can charge up to 3 batteries at once.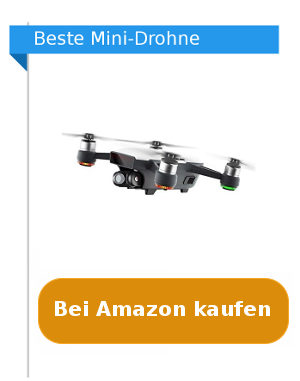 Of course a remote control, the power supply for the charger, a USB cable and the DJI Spark drone are also included.
It has a microSD card slot, but only a 16 Gb microSD card is included. You can use up to 64 Gb UHS-1-SDXC memory cards here.
The manufacturer DJI recommends microSD cards from Sandisk, Kingston and Samsung.
Due to its small, compact size, the Spark can be taken everywhere quickly and easily. Compared to the DJI Mavic Pro, the wings cannot be folded. But the propellers can be folded.
With a supplied 1480 mAh battery, we achieved a flight time of about 13-15 minutes in the DJI Spark test. The maximum flight time naturally depends on how much the small drone is used during the operating time.
The design, material quality and workmanship are typical for the market leader DJI. You can see immediately which house the small Spark comes from. It is available in the colours green, yellow, blue, red and white.
Technical data
Drone
Take-off weight
300 g
Dimensions
143×143×55 mm
Diagonal size (without propeller)
170 mm
Max. Climbing speed
3 m/s in sport mode without wind
Max. Sink rate
3 m/s during automatic landing mode
Max. Airspeed
50 km/h in sport mode without wind
Max. Altitude above sea level
4,000 m
Max. Flight Time
16 minutes (without wind at 20 km/h)
Max. Suspension time
15 minutes (without wind)
Operating temperature
0 to 40° C
Positioning
GPS/GLONASS
Hovering accuracy
Vertical
: +/- 0.1 m (with visual positioning) or +/- 0.5 mHorizontal
:
+/- 0.3 m (with visual positioning) or +/-1.5 m
Transmitter power (EIRP)
2.4 GHzFCC
: 25 dBm; CE: 18 dBm; SRRC: 18 dBm5
.8 GHzFCC
: 27 dBm; CE: 14 dBm; SRRC: 27 dBm
Operating frequency
2..400 – 2.483 GHz; 5.725 – 5.825 GHz
Vision system
| | |
| --- | --- |
| Obstacle detection area | 0,2 – 5 m |
| Operating environment | Surface should be larger than 20×20 cm, with a reflection rate of >20% (e.g. trees, people) |
Camera
Sensor
1/2.3″ CMOS effective
pixels: 12 MP
Objective
Field of view 81.9° 25 mm (35 mm format equivalent) f/2.6
(range: 2 m to ∞)
ISO area
Video: 100-3200Photo
: 100-1600
Electronic shutter
2-1/8000 s
Max. Image size
3968×29761440×1080
with Bokeh2300×1280
with Pano (horizontal)
960×1280 with Pano (vertical)
Photo modes
Single shotContinuous shooting
: 3
framesAEB: 3 focused frames at an aperture of 0.7Interval
2/3/5/7/10/15/20/30/60 s
Video resolution
FHD: 1920×1080p 30fps
Max. Video Bitrate
24 Mbps
Supported file systems
FAT32
Photo
JPEG
Video
MP4 (MPEG-4 AVC/H.264)
Intelligent flight modes
The DJI Spark has several features, including intelligent flight modes that many other drones do not have at all. This makes the Spark unique and special. Below are the intelligent flight modes that you can use to make special recordings.
Gesture control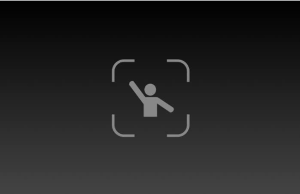 The DJI Spark can also be operated without remote control by means of gesture control.
If you are in Gesture Mode and the front two LEDs light up green, it means the drone has recognized you as a person. The drone can now be started manually.
If you now stretch out your hand, the DJI Spark's sensors will detect this and follow the movements of your hand. Up, down, right and left.
Shooting Selfies
The Spark makes a selfie of you if you show a window sign or square in front of your face with your fingers.
The LEDs of the drone will start flashing red quickly and then you have about 3-4 seconds to take a picture. The photo will be taken in Ultra HD 3968×2976 pixels.
When you raise your arms, you signal the DJI Spark to land. It will then reduce its height and fly to you at chest height. Hold your flat hand about 50 centimeters below the drone and it will land on it.
Follow Me Mode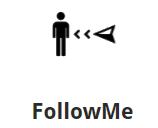 The drone can be set to follow me mode via gesture control. To do this, the person in front of it who has recognized the DJI Spark must wave. The Spark now moves into position at a distance of about 3 meters and follows the recognized person.
In our experience, Follow Me mode works very well on straight surfaces, but if you are on a steep incline, the drone may lose sight of you.
Quick Shot Mode
If you fly the Spark with the remote control, you can use 4 very interesting intelligent flight modes, so-called Quick Shot Modes. This is an ingenious way to create different picture and video recordings.
Droni Mode
In droni mode, the DJI Spark flies slowly up and back at the same time. The distances for this simple but very helpful mode can be set in the app.
You don't have to worry about the camera work during the flight in droni mode.
Circle Mode
In Circle Mode the drone flies in a radius around you that you define. This allows very smooth & gentle video recordings. A similar function is the Point of Interest function, which you surely know from other drone models and which the DJI Phantom models already had.
Helix Mode
In this mode, the DJI Spark rotates around you in a similar way to Circle Mode, but it changes its height in the process. The movement is similar to a spiral upwards.
Rocket Mode
In Rocket mode, the DJI Spark moves vertically upwards. The camera work is done by the Spark. The result is a great bird's eye view. In the app you will find all the settings, such as the maximum height for the Rocket Mode.
TapFly Mode
In TapFly mode, you can select a point on the horizon where the drone will then fly towards.
A virtual slider in the app allows you to adjust the speed of the Dji Spark.
Sport Mode
In Sport Mode, the DJI Spark reaches a top speed of up to 50 kilometers per hour. In this mode, note that the rotors are visible in the video recordings, as the drone flies with a steeper pitch angle when nodding to build up higher speeds.
Background detection does not work in sports mode, but you should be aware of it in sports mode.
DJI Spark test conclusion
In our opinion the DJI Spark is the best mini and selfie drone you can get on the market. Not a bargain, but it is worth its price!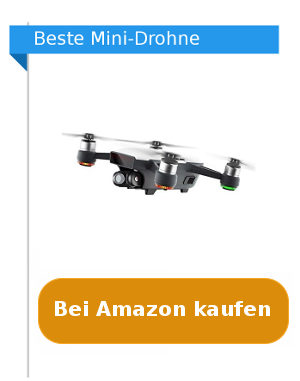 Fact is, due to its compact size it can be transported quickly & easily anywhere and
produce high resolution photo & video recordings
.
The new flight modes round off the whole package so to speak. The only thing we criticize is the shorter flight time compared to the other drones from DJI.
However, you can also get the combo version and charge several batteries at the same time and fly them empty.
All in all, DJI offers you an ingenious mini drone at a very
good price/performance ratio
.
On Amazon.de and DJI you can currently check current prices and buy the DJI Spark.