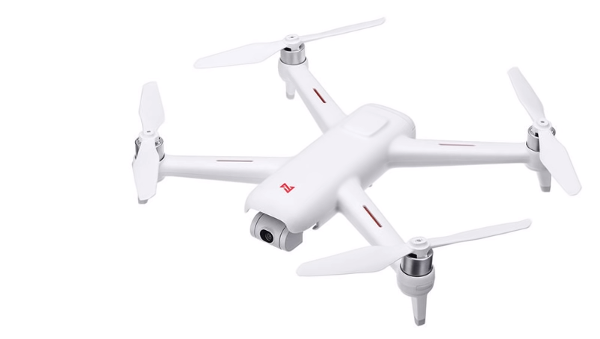 | | |
| --- | --- |
| Spaßfaktor | |
| Flugverhalten | |
| Materialqualität | |
| Aufnahmequalität | |
| Preis-Leistung | |
| Average 0/5 | |
The Xiaomi FIMI A3 5.8G was launched in 2016. Meanwhile there is the improved version with 4K camera, the Fimi X8 SE (click!), as the first quadrocopters of this type were only available with 1080P cam.
It is not only affordable, but also has many interesting features, which are not always included in this price range. Compared to other models, it is not only far ahead in this class in terms of price/performance, but also shines with enormously high-quality workmanship, reliability and noble design.
With this code you currently get a big discount on the Fimi A3 at Banggood:
Code: BGMaKnXMFMA3
Here you can buy the drone with discount: https://www.banggood.com/custlink/3GvKI39fhB
The following two videos show you all the advantages and disadvantages of the drone:

Second part:

Here you can buy the drone with discount: https://www.banggood.com/custlink/3GvKI39fhB
Technical data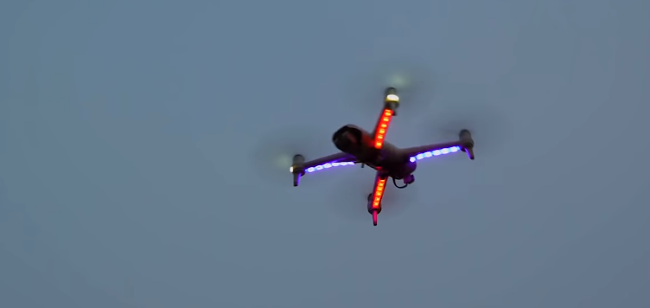 Of course the model has sophisticated satellite positioning systems. Included are GPS and GLONASS. Both complement each other perfectly to keep the drone exactly in position.
Integrated are a mechanical 2-axis and an electronic 3-axis stabilisation system, which ensure wobble-free and especially soft film shots.
Similar to the DJI drones, the Xiaomi Fimi A3 5.8G drone has propellers with quick release couplings, making them quick, easy and convenient to change.
Size, design and weight
In terms of size it is rather mediocre but compact. Its dimensions are 285 mm x 229 mm x 69 mm with a diagonal of 323 mm. It also weighs only 560 g and its lightweight construction makes for a particularly agile yet stable flight.
The look and design has its own character. The camera is embedded in a cylindrical form, which is mounted long ago over an axis, which in turn is mounted vertically movable on the drone, so the mechanical 2-axis gimbal can work perfectly.
Usually the Xiaomi Fimi A3 5.8G drone is available in white.
Camera, memory and FPV live image transmission
The drone is available in 1080p, i.e. HD resolution.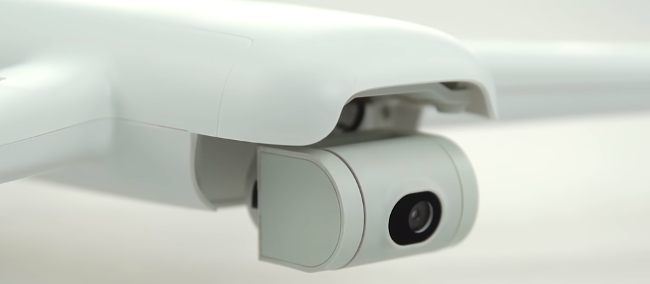 The field of view – FOV (Field Of View) is 80 degrees. Images are captured here using a 1/3.2 inch CMOS sensor and then stored.
As usual, JPG is used for photos and MP4 for video.
For photos you have a maximum of 8 megapixels with 3264 x 2448 pixel distribution. Videos can be recorded at 30 frames per second with a resolution of 1920 x 1080 pixels.
A 2.4 Ghz Wireless Remote Controller with 4 channels is used for data transmission. The remote controller has 2 different modes, one for left-handed and one for right-handed users.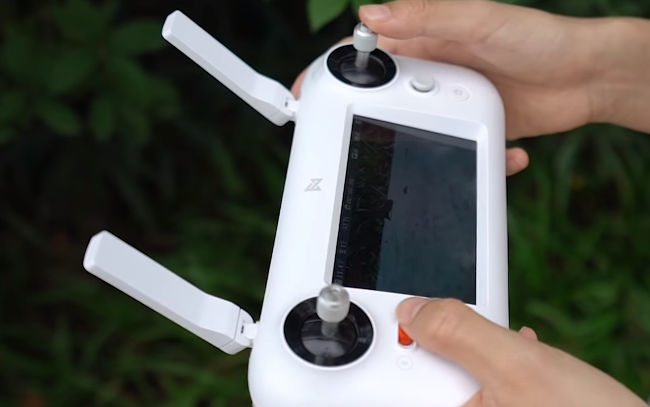 Thanks to the FPV data transmission it is possible to have particularly intensive flight experiences. On the LCD screen integrated in the remote control the images are transmitted live and displayed in real time.
The remote control has an AV output, so you can connect a monitor and display the images in real time. Alternatively you can also connect FPV glasses to get a better insight into the flight experience from the ego perspective.
Battery, range, flight time and legal
The maximum possible flight time is about 25 minutes, thanks to the 2000 mAh battery. This is pretty good for this low price and comes close to the flight times of the DJI models.
The range is about 1000 meters. If you have to pay attention to the fact that certain laws apply in Germany, you have to fly drones in this country always within visual range. It is also important that you have a drone license plate, which you need to have in order to fly legally with the quadrocopter. We also recommend to take out a liability insurance for drones, which is usually quite cheap.
Flight stabilization
Even in strong gusts of wind the GPS positioning is quite accurate and is only +- 0.5 meters vertically and +- 1.5 meters horizontally.
The maximum ascent speed is 6 meters per second, maximum descent speed is 5 m/s, the highest cruising speed is 18 meters per second and the maximum flight altitude is about 500 meters (pay attention to visibility and applicable laws, do not fly higher than 100m in Germany).
Assets and drawbacks
In the following we list the most important positive and negative facts once again to make your purchase decision easier.
Advantages:
Camera with an EIS image stabilisation for razor-sharp photos
Stable data transmission with FPV mode
Integrated LCD display for FPV image display
High quality ISP processor and Sony CMOS sensor
Reliable 2-axis gimbal (mechanical) + electronic 3-axis gimbal system
Extensive functions such as Follow Me Mode, Orbit, Headless and Return To Home
Quick and immediately ready to start
Very good price/performance ratio
Reliable flight stabilization via GPS and GLONASS
Up to 25 minutes flight time
Cons:
Does not connect to a smartphone or tablet via Wifi
Conclusion
At first glance, the quality of the Xiaomi FIMI A3 5.8G drone might seem to be close to DJI models. It does so in many areas, but there is still a difference in flight characteristics. This is only very small, but as an experienced drone pilot it is noticeable.
Nevertheless, the price/performance ratio is incredibly good and the Xiaomi FIMI A3 5.8G drone is perfect for beginners as it is safe, stable and reliable to fly.