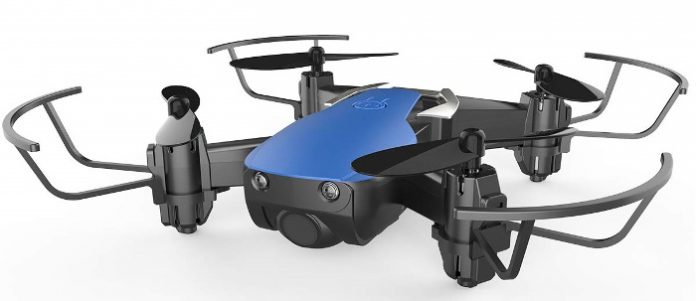 | | |
| --- | --- |
| Spaßfaktor | |
| Features | |
| Materialqualität | |
| Flugverhalten | |
| Preis-Leistung | |
| Average 0/5 | |
For beginners it is worthwhile to buy a very cheap drones, which have a lot of very good technical data and have a lot to offer.
This time we have chosen the Eachine E61H and tested it extensively.
This model has many great features, including headless mode, 360 degree flips and fully automatic altitude holding.
According to our test, the Eachine E61H Mini Drone is very stable and safe to fly. Newcomers will have an easy time and get along with the quadrocopter very quickly.
You can watch our video review of the quad copter here:
You can buy the drone here for a good price!
Technical data and facts
For the size of the quadrocopter, the electric motors are very powerful. They are very strongly driven by a modern battery and reach a rather high speed.
The drone does not have a camera, but it is very easy to fly. Of course a cam in this small size would not produce very good pictures anyway.
At the touch of a button you can perform various functions, which we will explain in more detail later. One of these modes is the 360 degree flip. The quadrocopter has many technical systems for this purpose, which work in the background and keep the drone at its flying altitude fully automatically.
Design
The quadrocopter is available in the colour mixture black/blue. On the upper side the model is blue and the remaining elements are black.
The rotor blades are made of a material which is both flexible and very resistant. In addition, they are also protected by a rotor protection against collisions with objects or people. You can easily remove this rotor protection.
In the scope of supply are 2 batteries. So you can change the flight battery and insert and remove it quickly and easily.
Thanks to the low weight and compact structure, high safety and durability is guaranteed. The model is also very easy to carry.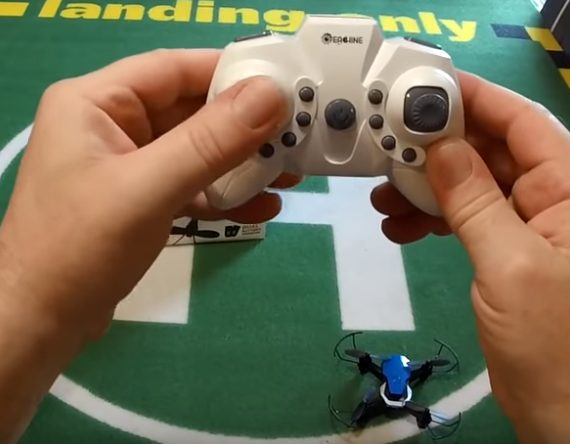 On the remote control there are many buttons left and right of the joystick. In the middle is the on and off button. At the side in the rear area there are 2 more buttons to run different modes.
Buy now in the shop the Eachine E61HW cheap!
Flight Modes
Very interesting are the functions that can be executed fully automatically on control command. We will explain them to you briefly.
360 degree flip: In this mode you just have to press a button and the quadrocopter performs the 360 degree flip, so rotate once completely around its own axis. You don't need to have any special skills to perform a somersault with the flying machine. Your friends and relatives will be thrilled!
Headless mode:
In headless mode, the flying model reacts directly to your control signals and performs them regardless of the orientation of the drone head.
For example, if the quadrocopter stands sideways to you and you move the joystick forward to make the model aircraft move forward, then the drone will not fly sideways away from you but frontally.
Fully automatic landing:
At the touch of a button, the Eachine E61H Super Mini UAV can be automatically landed and also launched. So you need not worry about collisions or crashes.
Automatic altitude hold:
As soon as you release all hands from the joystick, the quadrocopter will automatically maintain its height position. However, this will only work if there are no strong gusts of wind.
After performing a 360 degree flip, the model will also return to its previous altitude, fully automatically!
Here on Amazon you can buy the Eachine E61HW!
Battery and flight time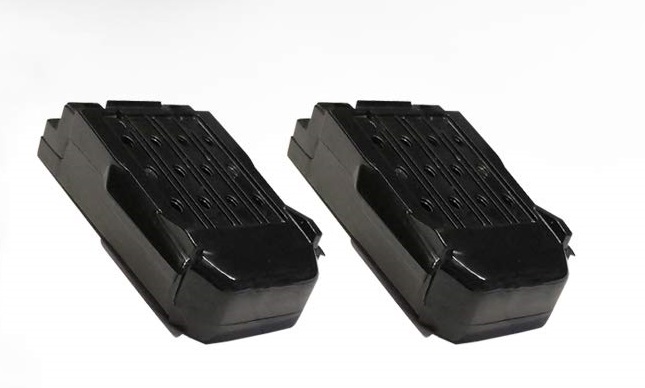 As already mentioned, the set contains 2 battery packs. These are easily exchangeable. Each battery lasts about 7 to 9 minutes. Thus, on average, one gets a total flight time of 16 minutes with 2 flight batteries.
Advantages and disadvantages
Advantages:
Very simple operation and control
Great for beginners to use for practice
Has an automatic height maintenance
Stable flight attitude
Automatic take-off and landing function
Has a headless mode
Is equipped with a low battery alarm
2 battery packs included in delivery
Very light, compact and robust design
Built-in positioning system – drone can be found via remote control
Provides a lot of fun in the living room
Disadvantages:
Does not have a camera
Rather not suitable for professionals
Conclusion
In our test we liked the Eachine E61H mini drone very much. In our opinion, it is the perfect model for beginners and children.
All important parts are included. You can easily fly with the model in your living room. You should only go outside when there is no wind.
Here in the shop you can buy the Eachine E61HW Super Mini Drone for a reasonable price!